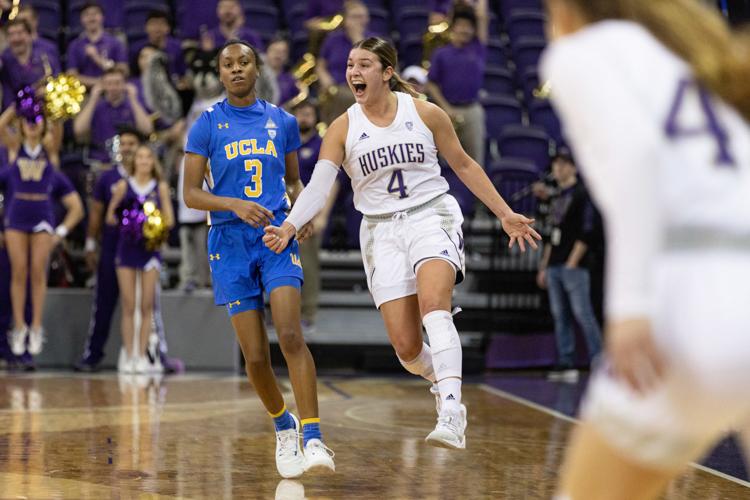 The Washington women's basketball team returns to the place it stole headlines a year ago: the Pac-12 Tournament in Las Vegas.
The Huskies (13-16, 5-13 Pac-12) are already carrying momentum into the weekend, having eclipsed their highest Pac-12 win total under head coach Jody Wynn with three consecutive home wins, including a senior-day upset of top-10 UCLA. 
"The biggest thing is to really look back and learn what we were doing back then," senior forward Mai-Loni Henson said. "We believed we just went in without any doubt, any care about what could happen, we just played, played our game, did what we needed to do and had fun. I think [that] was the biggest thing."
No. 9 seed Washington's first round matchup will be against Utah, which finished the season at the same overall 13-16 record as the Dawgs, but grabbed one more win in Pac-12 play. 
In the first and only meeting between the two teams in the regular season, Utah came out on top in Seattle. A big factor in that win was its ability to shoot the ball from deep, going 11-of-27 on three-pointers, including hitting five in the first quarter.
"Transition defense, ball containment, and defending the three-point line," Wynn said. "Those are all our defense keys, and it starts with getting back in transition, getting set and being ready to contain the basketball, not allowing so many driving lanes, having better gaps, and really not collapsing on dribble penetration so they can just kick it out and shoot threes."
All-Pac-12 guard Amber Melgoza was held to just 15 points on 28% shooting from the field in the 74-65 loss.
"A lot of defenses are keyed to stop Amber, and she's usually being guarded by one-and-a-half, if not two, defenders," Wynn said. "She could do a better job of keeping her dribble alive and making a decision maybe before the double team comes, but at the end of the day we gotta have some kids that step up and knock down some shots."
The Huskies now have two full games under their belt in which they were missing two of their three post players. They went 0-2 on last week's Oregon road trip and lone center Quay Miller posted six points, 15 rebounds, and four steals in the two outings.
"She's just getting experience, game in and game out, minute for minute," Wynn said. "Just growing and learning body positioning, learning how to defend before her player catches the basketball and learning where she needs to receive the ball for her to be more successful." 
Should Washington win, it would face top-seed Oregon in the second round. The first round matchup is set for Thursday at 2 p.m.
Reach reporter Josh Eddy at sports@dailyuw.com. Twitter: @JoshTreEddy
Like what you're reading? Support high-quality student journalism by donating here.