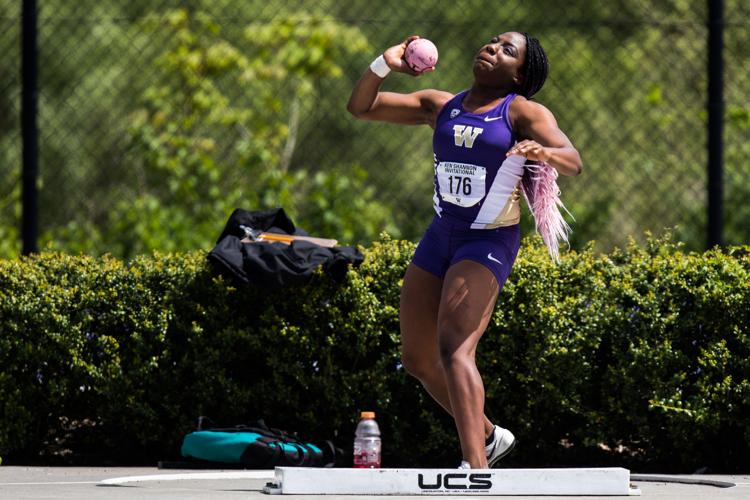 Washington thrower Angel Nkwonta knows the upcoming rivalry meet against Washington State is not just a normal meet, but her days on the Pullman High School track team preparing her for it were anything but ordinary either.
Throwing isn't the only skill Nkwonta has; in high school she not only won the 2A state title in shot put in her last two years, but also placed second in the 100-meter dash twice.
While it may seem like a strange combination, there are a lot more similarities than what meets the eye.
"Speed for sure, speed helps with throwing, and obviously with running," Nkwonta said. "I think a lot of people don't realize it, but strength does help a lot with running, and I was really strong."
It can be very difficult to juggle two different events, especially during practice when the preparation can be very different.
"I didn't practice throwing as much as running, because for running I feel like you need to do that more consistently to stay in shape, and then with throws I kind of just did it when I was done with running," Nkwonta said.
Once the standout reached the collegiate level, she stuck with throwing because she felt she could better keep up with the competition, but she does miss aspects of running.
"I miss the competition of running, because throwing can be kind of boring at times, you just kind of stand there and throw it, and then you wait a couple minutes then throw it again," Nkwonta said.
Nkwonta is looking ahead to this week's dual meet against rival Washington State, whose campus is just two miles from her former high school.
"With these meets its like you know the people," Nkwonta said. "I know a lot of the people at WSU, I've seen them compete when I was in Pullman and I've trained even with some of them, so it's like the competition is a lot higher. I really, really want to win."
She says she felt there was a pressure to go to WSU, but never really grew up as a fan of the Cougars, so when the time came, she decided to compete in the purple and gold.
"Seattle is a lot different from Pullman obviously and there's just a lot more to do here. I feel like there's a lot more opportunity here than there is in Pullman," Nkwonta said.
Nkwonta and the rest of the Washington track and field team will face off with rival Washington State April 6this Saturday, with action starting at 10 a.m.
Reach reporter Josh Eddy at sports@dailyuw.com. Twitter: @JoshTreEddy
Like what you're reading? Support high-quality student journalism by donating here.