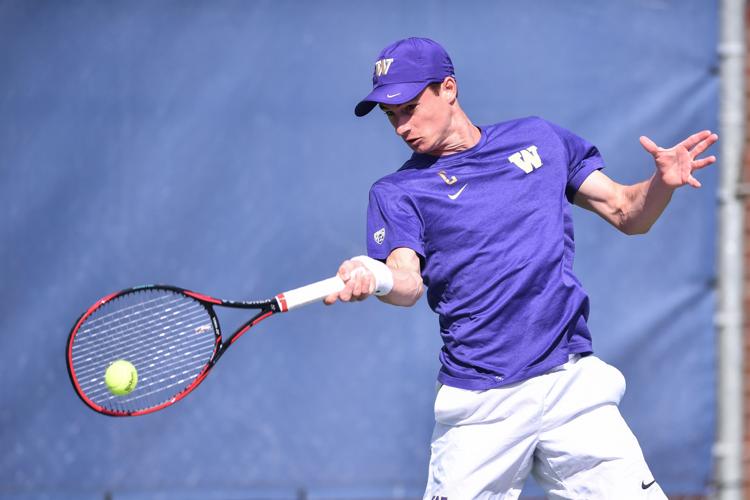 The Washington men's tennis team dropped its final regular season match of the season to No. 4 Stanford 4-0.
The trip down to Palo Alto, Calif., did not start out how the Huskies (13-12, 2-6 Pac-12) would have preferred. Stanford breezed through the doubles match on Court 2 as the pairing of freshman Jack Davis and senior Mitch Stewart could not get anything going at all and lost a quick 6-0 match.
The other doubles matches were a bit closer. Juniors Kawika Lam and Enzo Sommer battled in a back and forth match against the No. 50 pairing in the country of Michael Genender and Sameer Kumar. In the end, the duo of Genender and Kumar was too much to overcome as the Huskies lost 7-5 to drop the opening point. Junior Piers Foley and senior Jake Douglas battled in a close doubles match as well. They trailed 6-5 when the Cardinal (21-2, 8-1 Pac-12) clinched the point.
Washington's depth did not stack up this afternoon against a top-5 team. At the lower positions, the Cardinal was too much to overcome. Junior Sebastian Hawken could not get much going in his match as he lost a quick 6-2, 6-2 match on court 6. Over on Court 5, it was a similar story for freshman Alexis Alvarez. Alvarez dropped his first set 6-3 but lost his second set 6-2.
It was a similar story for fellow freshman Davis, as he dropped the first set 6-3 before making things a little tighter with his 6-4 second set loss to clinch the match for Stanford.
The Huskies had a bit more success in the unfinished matches. No. 62 Douglas picked up a huge first set victory 6-4 over No. 8 Tom Fawcett, and was battling in a tight second set in which he trailed 5-4 when the match wrapped up. It is the second time that Douglas has had a top-10 player on the brink when the match was called. He previously battled to three sets against No. 1 Martin Redlicki of UCLA.
Stewart also had a strong showing in the first set as he won 6-3. He struggled after that as he dropped the second set 6-1 and was trailing 3-1 when the match was called.
Sommer had an opposite match of Stewart as he dropped the first set 6-1 before bouncing back and taking the second set 6-2. He was trailing in the final set.
The Huskies will look to come back from a rough weekend as they get ready to travel back down to California for the Pac-12 Tennis Championships starting on Wednesday.
Reach reporter Kyle Gehler at sports@dailyuw.com. Twitter: @KyleGehler