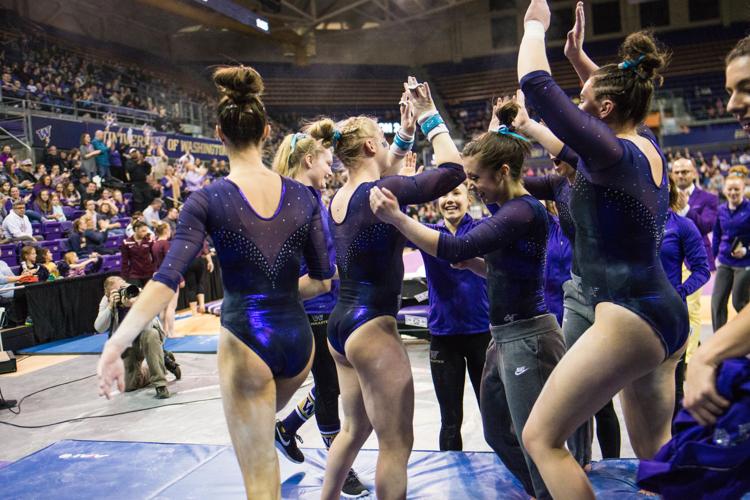 It was season high after season high for both the Huskies as a team and individuals as the No. 9 Washington gymnastics team scored a 197.400 to beat UC Davis (195.500) and Seattle Pacific (192.700).
That score exceeded the Huskies previous season high by .325, and also beat out last year's season high of 197.175 by over two tenths of a point, a not-insignificant margin. It was the fifth highest score in Washington gymnastics history.
"It was was super awesome to get a season high at home," senior Hailey Burleson said. "We've been working so hard in the gym so it's awesome to see this meet come together."
Burleson led the Dawgs with a season high all-around score of 39.600 to win the title, the second place gymnast trailing by .350. She was the Huskies only all-around competitor, with senior Joslyn Goings replacing sophomore Evanni Roberson in the vault lineup.
On the vault, the Huskies scored a season-high 49.150, and proceeded to achieve season highs on beam and floor as well, with a 49.475 and a 49.450 respectively. The beam effort was fueled especially by the second half of the lineup; Goings scoring a 9.900 and Roberson and Burleson following up with a pair of 9.925s to share the title on that event.
"We all came in fired up and ready to go, ready to get things done and to keep improving on last week's performance," junior Monica Riley said.
On floor, junior Kristyn Hoffa and sophomore Maya Washington shared the second place spot with 9.900s, and Burleson capped off the meet for the Huskies with a confident season-high 9.925 performance.
On bars, Riley once again stole the show with her third career-high score this season, a 9.950, one judge awarding her a 10.
"I heard 'Stick Huskies' over and over again and I wanted to just do it for them, and keep building off that," Riley said.
While the Huskies wanted to set a season best this week, they didn't focus on the numbers aspect, but instead had a mindset of consistent improvement.
"It was our best one so far, and I say so far because we always want to get back in the gym and do better," head coach Elise Ray-Statz said. "We sharpened up a lot since the last two competitions, and that was really our goal. We weren't so much focusing on scores or anything like that, but getting sharpness and precision back in competition."
As each event finished, the Huskies pulled further and further ahead of their competitors, bringing every detail that they emphasize working on in the practice gym to the meet.
"We put a whole meet together at home, which is exciting," Burleson said. "What's crazy is that there's still room to improve."
Washington will close out the season at home against No. 14 Boise State and No. 21 BYU next Thursday at 6 p.m.
Reach Managing Editor Hailey Robinson at sports@dailyuw.com. Twitter: @haileyarobin