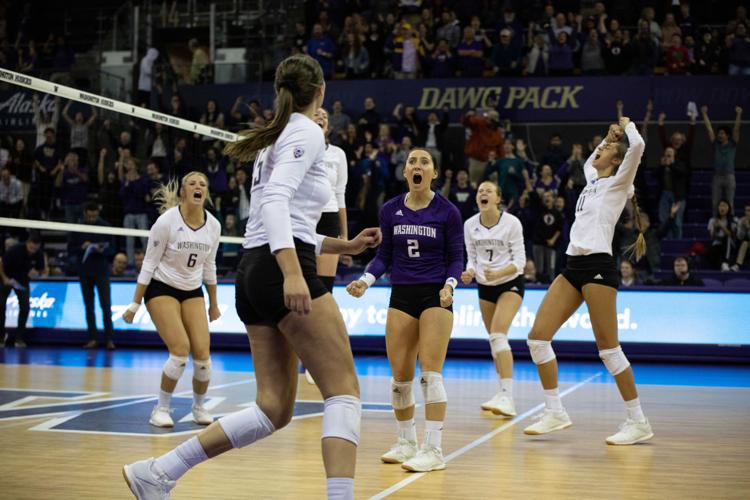 Going into the break following the second set, this didn't look like a game the No. 9 Washington volleyball team would win. 
Midway through the third set, it still looked like the Huskies (24-5, 15-4 Pac-12) would get swept by a Cal team playing stellar defense and not backing down to the Washington serve. 
The Huskies knew that it wouldn't be easy. The way Cal was playing, the Golden Bears (20-9, 11-9 Pac-12) wouldn't allow any long runs. But Washington came back from a 18-11 deficit in the third set anyway. 
Then they came back from a 2-0 deficit in the match, and made the fifth set look easy. 
According to head coach Keegan Cook, not much changed in between the second and third sets, or in the two early timeouts the Huskies took in the third. They just knew if they didn't come back and win three straight sets, they would lose, and they didn't want to do that. 
"You don't need to give a whole lot of motivation to this team," Cook said. "That saves us some time. They want to win and they know what to do."
The Huskies aren't strangers to tough fifth sets. Last time they were home, they defeated Utah in a fifth set that, similarly to tonight, it didn't look like they'd win, but they came back late for a victory. 
The first two sets weren't the worst Washington has played all season, but lacking defense held them back. Cal's serve-receive was the best the Huskies have seen in the Pac-12 this season, according to Cook, and Washington's serve-receive wasn't up to par. 
Then, starting in the third set, the Huskies started to getting to balls that they hadn't in the first two sets. They started making passes they hadn't. They didn't hit any better in the third set, but they held Cal to .100, and that helped make the difference. 
"I thought we did a lot of little things well in the last three sets that we weren't doing in the first sets: tip coverage, first contacts, passes," Cook said. "The margins were thin. Little things are often the difference."
Then, even as they faced elimination, it was Washington's game. Despite going down 2-0, they weren't going to lose. Their serving got in place. Senior outside hitter Kara Bajema started doing Kara Bajema things, finishing the match with 25 kills. 
"It was definitely resilience, refusing to lose and fighting to win are about the same thing," senior middle blocker Avie Niece said. "We were doing both of them."
The Huskies will celebrate senior night and close out their season on Saturday at 5 p.m., looking for revenge in an Apple Cup matchup against Washington State. 
Reach Engagement Editor Hailey Robinson at sports@dailyuw.com. Twitter: @haileyarobin
Like what you're reading? Support high-quality student journalism by donating here.