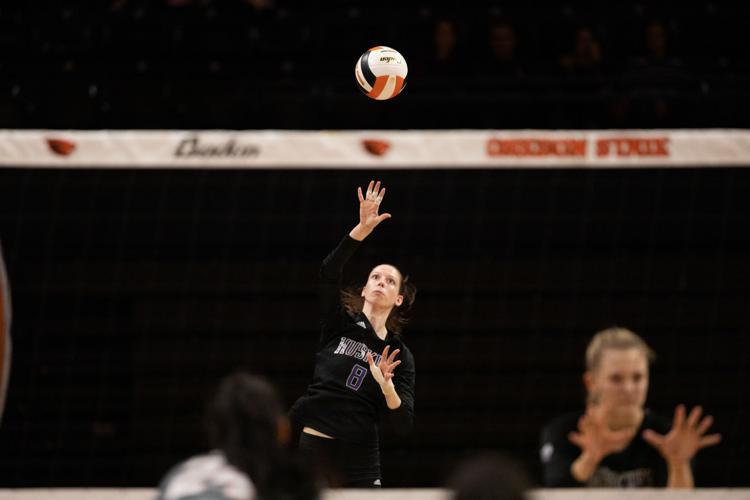 The key to the No. 13 Washington volleyball team's success is the serve. There are a lot of things that go into making any volleyball team successful, but it all starts with serving. 
When the serve isn't working for the Huskies (19-5, 10-4 Pac-12), that usually means not much is.
"That was a problem at Utah," head coach Keegan Cook said. "If you don't serve well against Utah, it's going to be difficult."
With No. 15 Utah coming to visit Alaska Airlines Arena this weekend, along with Colorado, the serve will have to stand up to the test that both excellent serve-receive teams provide. 
The past several years, Washington has been at the top of the conference in aces per set, but this season they're currently ranked No. 6. They've had issues with serving consistently, and have had more service errors than aces in 17 of 24 games this season. The biggest ace-error differential was four weeks ago, against the same team the Huskies will face Sunday. 
"Ever since the Utah match it's been a lot better," Cook said. 
Statistically, that's true. The Huskies have had more aces than errors in four of their last five matches, a solid two-thirds of the times that's happened all season. Aces aren't the only thing that indicates good serving, but they are the clearest statistic that proves a team is serving well. 
Of the top five Huskies who are leading the team in aces, all have more errors than aces, with the biggest disparity being 16 more errors than aces. Junior Maria Bogomolova has the most even number, with only two more errors than her 21 aces this season. She primarily comes in to serve for the Huskies, and served three aces in a row against Oregon last weekend. 
Bogomolova and senior outside hitter Kara Bajema are tied with 0.27 aces per set, with Bajema taking No. 7 in the Pac-12, one spot above Bogomolova, because she has a few more aces overall. 
The Huskies want another complete weekend with two wins. They want to beat Utah in a rematch of last month's game where "There were wasn't much that went right," according to Cook. That starts with one thing. 
"Trying to make sure we're ready from the service line to create some pressure," Cook said.
The Huskies start their weekend against Colorado at 8 p.m. Friday at Alaska Airlines Arena. On Sunday, they'll face Utah at 1 p.m.
Reach Engagement Editor Hailey Robinson at sports@dailyuw.com. Twitter: @haileyarobin
Like what you're reading? Support high-quality student journalism by donating here.