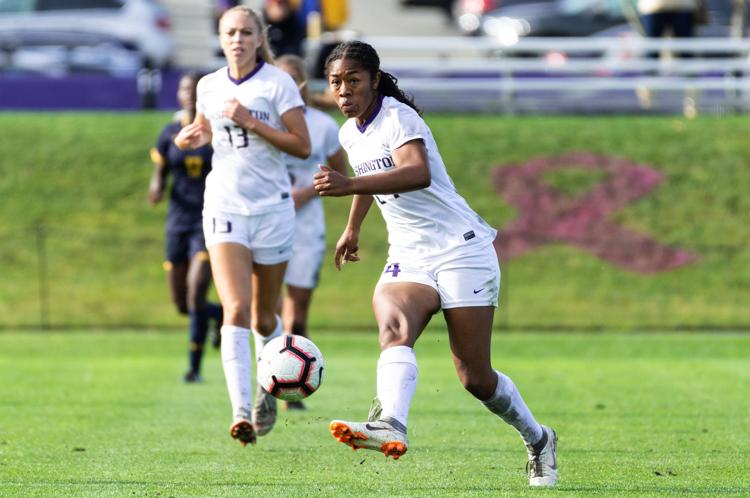 The Washington women's soccer team scored early and often to win 4-0 over crosstown rival Seattle University in its second game of the spring season..
Head coach Lesle Gallimore only made one change to the starting lineup, inserting senior Asia Brisco as a starter for the Dawgs. The forward made two starts this past season, and made an impact quickly in this one, scoring just three minutes into the game.
"It meant a lot because that's literally what we've been working on all week, throughout the winter so it's just kind of good to see it come to fruition," Brisco said.
The goal came in thanks to a Makena Carr cross. Carr was very active early in the game, putting up three shots in the first half to go along with her assist.
That wasn't the end of Brisco's night; she came into the game in the second half and played defense, something she had no experience doing.
"When you're playing against them all the time, you kind of pick some stuff up, so it's like, just don't get beat," Brisco said.
The second goal of the night came at the feet of Mireya Grey. After the Huskies earned a corner kick, midfielder Ameera Hussen fed the ball into the box and a waiting Grey smashed the ball into the Redhawk net.
"Our front six did a really good job of putting them under pressure early," Gallimore said.
The offense was flowing early with both goals coming in the first 13 minutes, but midway through the first half, Washington lost offensive control, and closed the second part of the period with just two shots to Seattle's three.
"Our midfield needed to demand the ball more, and get on the ball more, or switch the ball more and find the space," Gallimore said. "We were really predictable playing down one side, we kind of defaulted to just playing longer balls."
Maryland transfer Mary Johnston saw her first action for Washington, subbing in during the second half. In the final minute of game, she found sophomore Ruby Hellstrom in the box, who fired a strike for the team's fourth goal of the night.
Washington's next two matchups will both be on Saturday, April 20, playing Gonzaga at 10 a.m. and then Eastern Washington at 4 p.m.
Reach reporter Josh Eddy at sports@dailyuw.com. Twitter: @JoshTreEddy
Like what you're reading? Support high-quality student journalism by donating here.