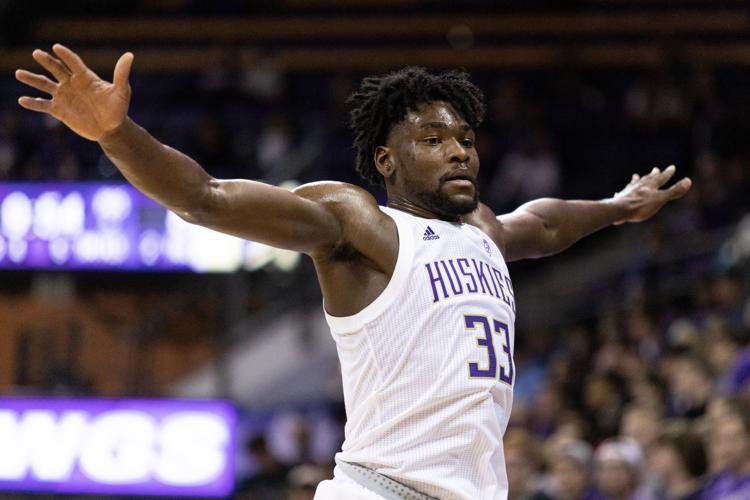 Out of the 200 minutes played among nine Washington men's basketball players against No. 24 Baylor, 50.5% were played by players who had never appeared in a UW uniform before.
Well over 60% were by freshmen or sophomores. While last year three seniors were featured in the starting lineup for much of the year, the No. 20 Huskies (1-0) gave just two minutes to a senior against the Bears (1-1). 
"It was like a dance partner," head coach Mike Hopkins said. "You dance a lot, you get in a good rhythm with each other, and sometimes when you're new you can step on each other's feet a little bit. We were rushing and stepping on each other's feet a little bit. But as it progressed, you're learning about your team."
Despite the late deficit, as much as 13 at one point, the young Huskies erased the lead and beat a top-25 team in a neutral-site game. 
Washington pretty much trailed for the entire game until the final moments, when an Isaiah Stewart turnaround shot bounced around the rim before falling in with less than 30 seconds to go. It wasn't the first time the Huskies turned to the freshman, who has already emerged as a leader, despite his age. 
His advice in that moment was bold for someone so young. 
"Throw out the playbook, at this time, let's just be some dogs" Stewart said. "At the end of the day we were down by 13, and we were all focused on finding out how to win that game. At that point you block out what the coaches say and go out with your brothers and just try to win."
Before joining the Huskies as a freshman, Stewart played through the AAU circuit and against some of the best prep competition in the country while in high school. Because of those experiences, he wasn't phased by the bright lights of a nationally-broadcast game of college basketball.
"I've been so used to playing high-level competition," Stewart said. "Going into the game, I was pretty calm, I was excited and ready to play. I didn't really have any jitters."
But the key for the rest of the season for the Huskies will be playing under control, something they've shown that they can do in the early season. They've already shown they can compete with anyone in the country, under certain circumstances.   
"It shows how good we can be as long as we play with poise and if we take our time," Stewart said. 
Reach Sports Editor Alec Dietz at sports@dailyuw.com. Twitter: @AlecDietz
Like what you're reading? Support high-quality student journalism by donating here.