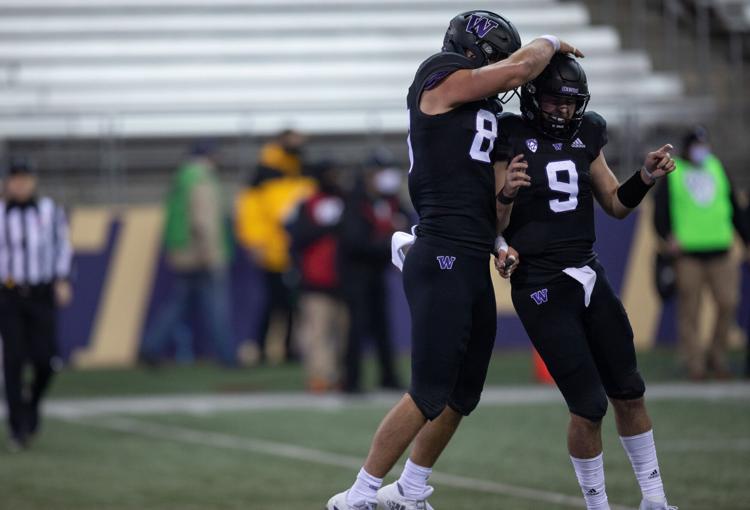 They may only have five games to develop any chemistry — depending on UW junior tight end Cade Otton's NFL draft prospects — but UW redshirt freshman quarterback Dylan Morris and his talented tight end seemed to have something brewing on Saturday night.
After hooking up just once for five yards last week, Morris connected with Otton seven times for 100 yards and a touchdown in the Huskies' 44-27 blowout of Arizona. As Jimmy Lake put it, it was all just part of the process.
"Dylan's just going through his progressions," UW head coach Jimmy Lake said. "Cade was obviously open a fair amount of times there. If he gets to that progression to hit Cade, he's gonna hit Cade. He catches the football, he's so sure-handed, he gets upfield, he's hard to cover."
That progression played a huge part in building the Huskies' 37-0 lead, which led to mercy substitutions for both players early in the fourth quarter. In just three quarters, Morris went seven-for-eight when targeting Otton, and four of those completions resulted in first downs.
Part of the connection can be attributed to the Huskies' increased reliance on Morris for offensive production throughout the game. 
After totalling just 141 yards last week against Oregon State, the first-year starter threw for 230 yards and two touchdown passes in his three quarters against Arizona (0-2). 
"How about our guy Dylan Morris?" Lake said. "He's just played his second college football game of his life, and all he does is go over 50 percent on third down, 100% on fourth down. For him to be able to have decision-making to not give up a legitimate sack and not turn the football over, get us out of bad plays into good plays, keep good plays on — I'm so excited for Dylan."
Otton proved most reliable, though, presenting countless opportunities to move the ball down the field. The big tight end's performance earned him new career highs in receptions and receiving yards — as well as this week's game ball from Lake.
"Wait until you see the film of him blocking tonight," Lake said. "He was just mashing guys all over the field, opening up lanes for our running backs. The highlight plays are the pass-catches that he had, and the yards that he had, and the touchdown. He is a big-time tight end, he is a big-time football player — so pleased with him, and, again, this is what a Dawg is all about."
Meanwhile, Morris achieved an array of passing career-highs in his second-ever college football game. He set new personal bests in just about every category imaginable — aside from interceptions and fumbles, two areas in which he's still yet to crack the statsheet.
Once again, Morris showed his knack for consistency and ball-protection. When he missed throws, he missed safely, getting the ball out of bounds and away from defenders. When he scrambled, he protected the ball, refusing to put it in on the turf and in harm's way.
"Dylan has a lot of command," Otton said. "He runs our offense really well. He's really good at reading his progressions, and he finds the open guy."
Guided by Morris' shrewd play and Otton's literally massive impact, the Huskies (2-0) haven't turned the ball over since an errant snap on their first possession of last week's game against Oregon State — a drive that, by the way, happened to be their first in over ten months.
Aside from a few overthrows on deep balls and some more bad drops, the Huskies revealed the potential of their passing offense, which proved potent at times, especially with the running game stalling early on in the contest.
And that was never more evident than when Morris found Otton in his progression. The timing and precision between the two took place almost flawlessly throughout the offense's dominant performance on Saturday.
"It's not gonna be perfect, but we do have a progression," Lake said. "We're going to make sure here moving forward that Cade is always in the progression, and I know Dylan will be looking for him."
Even if it's just for a short couple of months, Otton showed his reliability tonight as a target for his young quarterback in offensive coordinator John Donovan's offense for as long as time and COVID permit.
Reach reporter Nick Mendro at sports@dailyuw.com. Twitter: @m_mendro
Like what you're reading? Support high-quality student journalism by donating here.