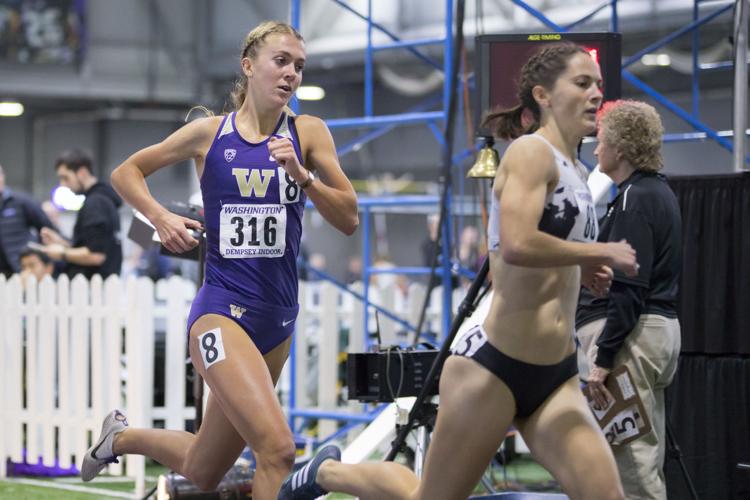 Katie Rainsberger's personal record in the mile at today's Last Chance College Elite Meet wasn't just a good race, it may also help her moving into the most important stretch of the season.
Rainsberger came in with a time of 4:35.15 to place fourth in the event against multiple professional and international runners.
"It was good, better than expected, I felt better the last two laps than the first couple," Rainsberger said. "It's a really low-key event, so it was nice to come out with some teammates and compete hard, and then we'll go do some work now afterwards, and just keep getting ready for the big one in a few weeks,"
Her time today puts her into 13th in the nation, moving her up five spots. At last week's Husky Classic, she posted a time of 9:02.84 in the 3000-meter race, good for 11th in the nation. She also runs on the UW's distance medley relay, which currently holds the fifth-best time in the country.
"We'll need to shuffle the deck and figure out which events to do moving forward," director of track and field Maurica Powell said.
Today's event was a chance for some competitors to earn a spot in the postseason, but for those that have already qualified, it was just good practice.
"It's just another opportunity to try a couple different tactics, try and race hard, but really just put in work and get ready," Rainsberger said.
The junior transfer from Oregon has already made her mark at Washington, and holds the third-best mile time in school history. Today's 1.61-second personal record inches her closer to Katie Follett's third-place time in Washington history at 4:34.98.
This is her first indoor season in two years. She could only watch when the Ducks came to Dempsey indoor last year, out with an injury.
"To be one year removed from that and PR'ing again on the same track is pretty awesome," Powell said. "I think there's a lot more coming for her, she's a kid that really responds well to kind of lightening up."
Reach contributing writer Josh Eddy at sports@dailyuw.com Twitter: @JoshTreEddy
Like what you're reading? Support high-quality student journalism by donating here.