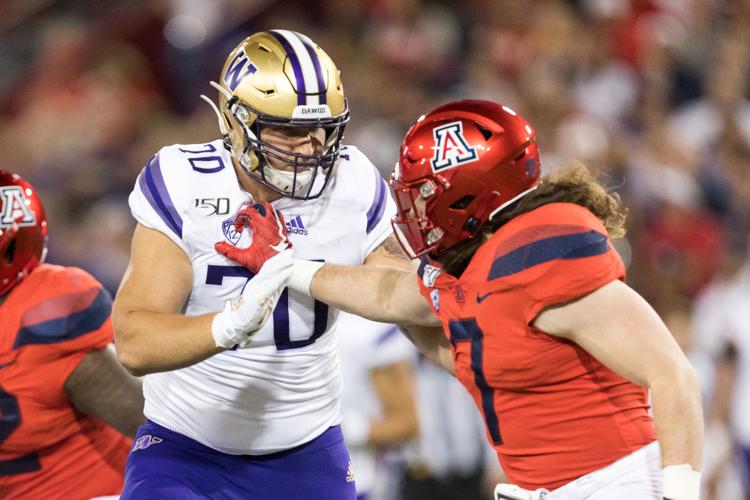 Whether it's in the locker room, the weight room, or on the field, Jared Hilbers is all business.
"The way he comes to practice every day, he's early, he's dressed, he's ready to go," offensive line coach Scott Huff said.
After last season presented earlier-than-expected business for Hilbers, the redshirt senior now has key experience under his belt going into the second half of his final season.
"I wasn't thrown in," Hilbers said, "It helped me get my feet wet. I knew what to expect coming into this year."
The only time you won't find Jared Hilbers in business is on game day, during his pregame nap. 
"I lie down for an hour or so and get a 30-45 minute nap," Hilbers said when asked about his pregame rituals.
"Those are for the night games, though. Night games or later day games. Those are my favorites. We hang around the hotel, may as well rest up if you've got a night game."
The senior right tackle for the Washington football team has taken quite the path to his starting role on the highly regarded offensive line. The 6-foot, 7-inch tackle was recruited out of Beaverton, Oregon and redshirted his first year at Washington.
After coming off the bench in 11 games through his first two seasons, Hilbers was called upon last year when star left tackle Trey Adams went out with a back injury in fall camp. 
Hilbers was welcomed to the starting roster with a matchup against defensive end Nick Coe and Auburn's vaunted defensive line. In 2018 Hilbers ended up starting 11 games and helped carve the way for UW tailbacks to produce 2,468 rushing yards on the season.
Then, after the season ended, Hilbers found himself moving from one side of the line to replace an All-Pac-12 tackle to the other side to replace another All-Pac-12 tackle in Kaleb McGary.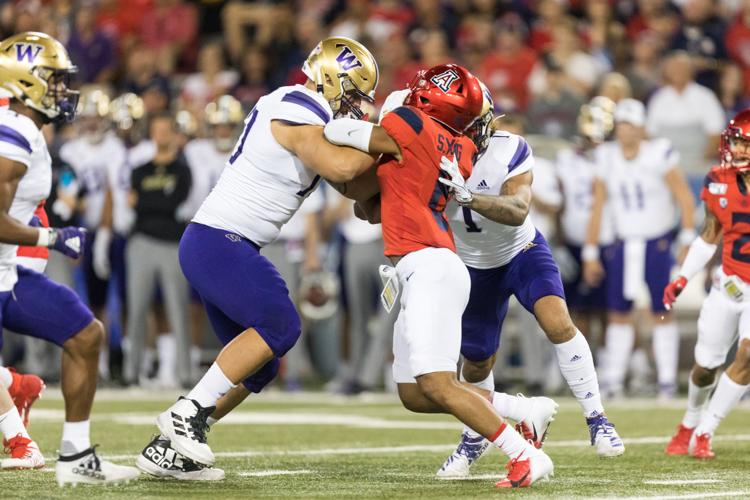 "That wasn't really a big deal for him because he's one of those guys who doesn't really have a problem switching sides," Huff said. 
Business as usual for him.
"He's gotten more confident in himself and he's carrying himself in a better way," Huff said. "And his technique, he's really taken the next step with his technique and his fundamentals. Just continuing to get better. He's making calls and knows what to do, everything is not such a big learning process."
Now that Hilbers is a full-time starter, he is a member in one of the most experienced UW O-lines in recent memory. The line of Adams, Luke Wattenburg, Nick Harris, Jaxson Kirkland, and Hilbers has racked up 141 starts as a unit.
"It really doesn't change anything," Huff said. "Because although maybe the guys we are running out there on gameday have played a lot, the day-to-day operation, we are trying to keep those guys as sharp and polished as possible, and improve."
Even though he's part of such a veteran line, Hilbers is lining up next to Kirkland — a sophomore — and is ahead of redshirt freshman Victor Curne on the depth chart. So in his immediate area, he's had to embrace more of a leadership role. 
"I'm not really like a vocal leader," Hilbers said. "If you're gonna label me as a leader, I'm more as a lead by example, so people can learn from it once I'm gone."
Although Hilbers is more of a reserved player, it doesn't mean he lacks other leadership traits.
"He's awesome, in terms of the weight room," Huff said. "The guys are like, 'Hey, I want to be like that dude, big, strong, athletic, and works really hard.'"
And does that leadership carry over off the field? Has Hilbers gotten Kirkland hooked on the pregame naps?
"Yeah, probably," Hilbers said, chuckling. 
Leading by example, he is a businessman after all.
Reach reporter Anthony Edwards at sports@dailyuw.com. Twitter: @edwardsanthonyb
Like what you're reading? Support high-quality student journalism by donating here.