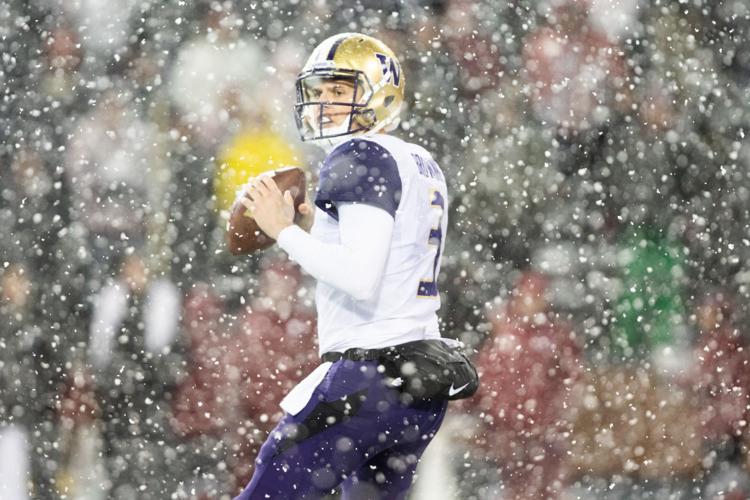 When the No. 9 Washington football team takes the field in Pasadena, Calif. for the 15th Rose Bowl in program history, the Huskies will go against the best team they've faced all season in No. 6 Ohio State. In the second piece of The Daily's preview series, we take a look at the UW passing offense versus the Ohio State secondary. Check out the previous installment here.
The No. 9 Washington football team's passing game has been more than a bit of a wild card on offense. Jake Browning had his share of signature moments in his senior campaign; he's also had his share of head-scratching ones. The receiving corp has been much healthier than it was last season, but it's had both highs and lows.
Going into the 2019 Rose Bowl, the matchup between the UW passing attack and No. 6 Ohio State's secondary has been relegated to the shadows. The primary storyline of the game has to be whether the Huskies (10-3, 7-2 Pac-12) can contain the OSU offense. When the Dawgs have the ball, the focus is on Myles Gaskin and the ground game.
Browning throwing the ball may be considered the "C story" right now, but all too often the C stories emerge on gameday as the difference.
For its part, Ohio State's pass defense has been by no means bad (after all, it's a defense on a 12-1 team), but tremendously hit-or-miss, feast-or-famine. The Buckeyes are tied for 11th in FBS with three sacks per game. On third downs, OSU is among the best in the nation, allowing conversions just over 31 percent of the time.
But one has to go way down the rankings — to No. 84 nationally — to find Ohio State's total pass defense, allowing 239.9 yards per game. Get inside the 20-yard line against the Buckeyes, and you're in very good shape; they're 109th in FBS at red zone with opponents scoring nearly 90 percent of the time.
Eight different Buckeyes have logged interceptions, but only two have more than one — cornerbacks Shaun Wade (three) and Kendall Sheffield (two).
On multiple occasions, though, the OSU back end has looked more than a little lost, especially on downfield passes. The Buckeyes have been flagged for pass interference 18 times in 13 games, with a further five defensive holding calls. In OSU's big win over No. 7 Michigan, the Wolverines had 12 pass attempts go 20 yards or more — three were completed, and four more drew flags.
It's a a secondary that can definitely be tested deep; the only question is whether the UW offense can do so. At times this season, Browning slung the ball downfield like he did in 2016. In the season-opening loss to Auburn, he had 13 throws go fewer than 5 yards and eight go at least 20.
But when opposing defenses stacked up against the run, the UW passing game compressed under pressure. Browning threw the ball 33 times in the Pac-12 championship game; a third of them were targets behind the line of scrimmage, and of the remaining 22, just eight traveled more than 5 yards downfield.
He'll have plenty of options to work with. Aaron Fuller has stepped up as the UW's No. 1 option out wide, though Andre Baccellia has led the Huskies with 13 catches in the past two games and Ty Jones is still the most physically-gifted receiver the Dawgs have.
Out of the backfield, both Gaskin and Salvon Ahmed have 18 catches this year. Hunter Bryant's late return from injury has provided Browning with another weapon; six of his seven catches this season have gone for either a first down or a touchdown.
Edge: Washington
The best way to stop the UW passing attack has been to send pressure and hurry Browning, but do so at your own peril. Washington has won games primarily with screens and drag routes, and it just takes one missed tackle to turn any of those into a big gain. And if Ohio State adds an extra man or two to the rush, it'll leave its corners on islands against Fuller, Baccellia, and Jones.
Chris Petersen's first priority with ball is going to establish Gaskin, and if the Dawgs can't do that and get into predictable throwing situations, they could be in trouble. But if Washington can supplement its run game with 15 to 20 high-percentage throws and more than a couple deep shots, it could have plenty of success against the OSU secondary.
Reach Sports Editor Josh Kirshenbaum at sports@dailyuw.com. Twitter: @J_Kirshenbaum
Like what you're reading? Support high-quality student journalism by donating here.