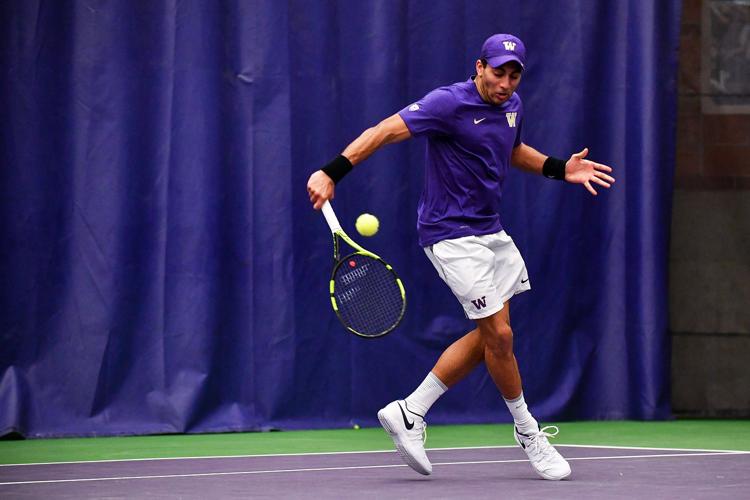 With senior day festivities wrapped up and the home slate in the rearview mirror, the Washington men's tennis team will turn its attention to No. 35 Utah as it takes on the Utes (19-4, 2-2 Pac-12) on Friday in the lone match of the weekend. 
The Huskies (11-10, 1-4 Pac-12) will have to prepare for more than just the Utes as they will have to adjust to the altitude change quickly.  
"I feel like the coaches are really trying to stress staying down on the ball," sophomore Amit Batta said. "In practice, we are implementing some of the changes that we might feel at altitude like the ball flying off our strings." 
It is a significant transition for visiting teams and a major home-court advantage for the Utes, who are 12-0 at home this season. 
"For us, baseline to baseline is 78 feet, and you play on that for most of your life and then all of a sudden the court feels like it is 74 feet," head coach Matt Anger said. "What you need to do is make sure you're hitting out. The first thing people do is they ease up, but then the ball flies a little bit more. You actually have to hit through to get more spin and get that ball to come down sooner."
While they are preparing for balls to carry more than usual, Huskies are less worried about the altitude change having too big of an effect on themselves physically. 
"I've never noticed any impact on endurance," Anger said. "If we went on a run and they were running their hardest mile the guys would definitely feel it, but our guys are pretty fit, and they have never really noticed that."
After suffering a tough 4-2 loss last year against Utah, the Huskies come in with something extra to play for. 
"It helps that we're heading back down there this year after we lost there last year," Batta said. "I feel like we are going in with extra motivation."
With just two road trips left in the regular season, the Huskies know the importance of every single match if the team wants to continue playing into May.   
"Coming down to these final three regular-season matches we know we need a couple wins in order to make the tournament," Batta said. "This match is going to be crucial, and I know that we're mentally prepared." 
Reach reporter Kyle Gehler at sports@dailyuw.com. Twitter: @KyleGehler