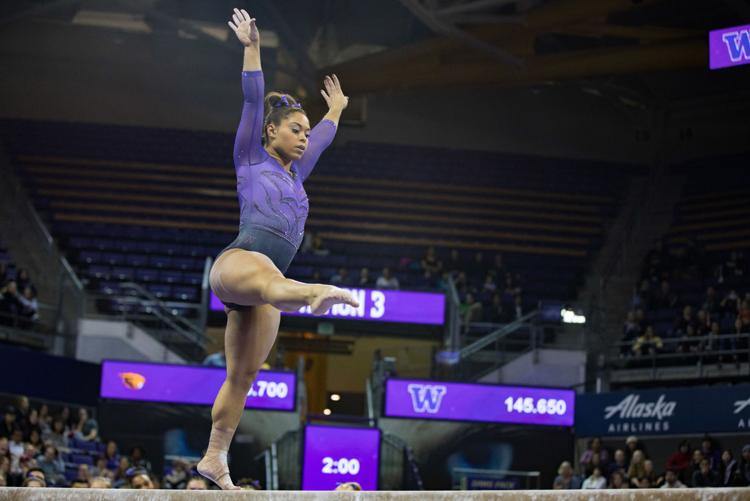 The balance beam is a 4-inch wide, 16-foot long platform a little over 4 feet in the air. In gymnastics, it's the event that can make or break a meet, but it's not because of how difficult it is to do tumbling passes and spins on such a small space.
"It's definitely the hardest event to compete, simply because physiologically your body is different when you're nervous," head coach Elise Ray-Statz said. "You tend to be a little shaky, so it's hard to stand on a something 4 inches wide that way."
Nerves can make a routine that a gymnast has practiced hundreds of times more difficult to compete on any event, but controlling those nerves is especially important when it comes to the beam.
"It's 90 percent mental, 10 percent physical," junior Evanni Roberson said. "I think sometimes people think it's 50-50, but in reality it's pretty easy to get skills on beam. The consistency in competing them under pressure is what makes them unique."
The mindset Washington has carried through the season, of focusing as much on the mental aspects of gymnastics as the physical aspects, is only amplified on the beam. Control over mental performance is what makes the difference between practice in the gym and performing in competition.
"It starts in the gym," senior Malory Rose said. "We train really hard in the gym, on all the events, but beam is definitely one of those events where it comes to the meet and it's more of a mental thing. Having those cues and counts, and just really dialing into what you're saying to yourself during beam, not letting anything from outside get to you, we focus a lot on that."
In the gym, it's all about repetition. The Huskies practice the same moves and routines over, and over, and over, until their beam routines are so solid that the hardest part isn't the routines themselves, but getting nerves under control.
"You do so many repetitions up on the beam that you're so confident that you know, no matter what, you're going to make it up there, no matter how small or wide the beam is because you've done so many repetitions," Rose said.
That repetition isn't just physical, but mental as well.
"We do a lot of visualization and mental routines," Rose said. "We'll visualize and feel it but not actually be on the beam, or just standing on the floor or beam, and just running through it in your mind so you get the feeling of doing it again and again."
Beam isn't just the hardest event to compete; Ray-Statz also puts pressure on the Huskies to just break into the beam lineup. Her beam training is what Roberson calls "out of the box," and competing on beam means first putting in a lot of work and committing to her process.
Every lineup has Washington's best possible competitors for that event, and a lot of strategy goes into creating that lineup.
"We start with really hard assignments in the gym and that shapes our lineup," Roberson said. "Those who are able to complete the assignments with good quality are usually the ones who make the lineup, so that determines how it's formed."
Washington's lineup has started all season with Rose, who has competed only on beam for her entire career with the Huskies. As a beam specialist and Washington's leadoff gymnast on the apparatus, her role is to get the team off to a strong start.
"Being leadoff, I know I'm going to set the tone for the team and go and hit my best routine and do it for them," Rose said. "Making it so everybody else in the lineup is as confident as they can be, knowing that we started off really well."
Rose has been dealing with a torn meniscus for the past few meets, meaning Ray-Statz has had to adjust which skills she performs on the beam so she doesn't put too much pressure on her knee.
Despite the injury, she's started the UW beam lineup for 17 consecutive meets, beginning at Utah on Feb. 3, 2018, and she made the decision to compete the full season in her final year at Washington.
Five gymnasts follow Rose, and their job is to build on the foundation she's set. Junior Michaela Nelson recently returned after missing the first few meets recovering from surgery on a torn meniscus in December, while junior Maya Washington, freshman Brenna Brooks, junior Madison Copiak, and Roberson have competed on beam all season.
Roberson, one of the top-25 beam competitors in the country, typically closes out the beam lineup for the Huskies.
"The idea is to build, build, build, build, build and just have those final scores really get you that big event score," Ray-Statz said.
Reach Social Media Editor Hailey Robinson at sports@dailyuw.com. Twitter: @haileyarobin
Like what you're reading? Support high-quality student journalism by donating here.