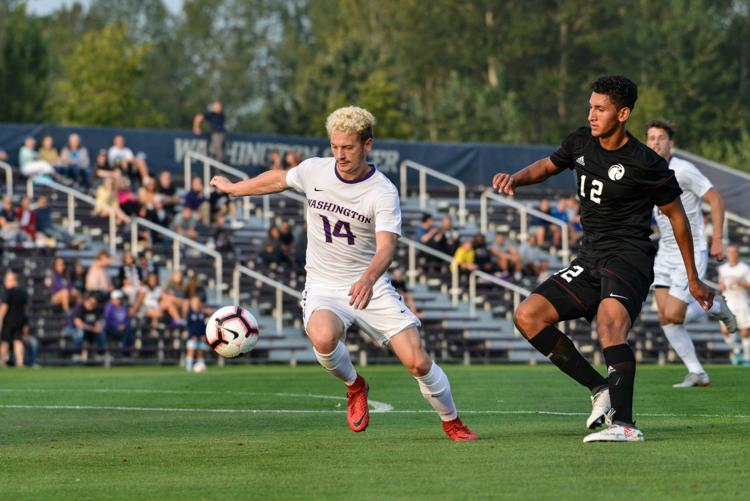 The No. 9 Washington men's soccer team has started the 2018 season 5-1, and is enjoying its highest level of early-season success in the past few years. However, the Huskies are a hobbled group, with numerous players nursing injuries and at various stages of recovery.
Head coach Jamie Clark is certainly aware of this, which is why he will be relieved once this Friday's game against No. 20 Portland is in the books. Washington won't have another game for nine days after that, so the team can enjoy a bit of a bye week during that time.
"We need it," Clark said. "Most teams have had a single-game week by now. We've racked up a bunch of little injuries, little knocks that guys will get to get healthy for. We had Joey Parish playing right back on Sunday which, he's probably third or fourth on our depth chart [at that position], so that's to the point where we're at right there."
Parish, who was just named to the Top Drawer Soccer NCAA DI Team of the Week, got the start at right back against Akron in the absence of redshirt senior midfielder Luke Hauswirth, who was a late scratch and has missed the last two games with a "little muscle pull," as Clark put it. Redshirt sophomore defender Kasey French and redshirt junior midfielder Ryan Degroot also missed Sunday's game with injuries they picked up in last Friday's game against CSUN.
"It's kind of a cumulative thing, a lot of guys are playing but really playing through things, which is fine," Clark said. "But at some point it would be nice to feel like guys are actually healthy and feeling good rather than survival."
Senior defender Quentin Pearson almost missed Sunday's game with an injury of his own, but he played and spearheaded the back line as he so often does. Pearson's role as the elder statesman of the defense has been more important than ever this season because of the ultra-attacking gameplans the coaching staff have been installing game after game.
"His role is very important to me," Clark said. "It's easier to sit back and defend deeper a lot of times but we're asking our guys to press up the field and to both step up but also cover the 60 yards behind them. So being organized, brave, and athletic enough to handle those spaces is tricky and you need good defenders to do it."
One midfielder that especially stood out Sunday was junior Jaret Townsend, who recorded his first goal of the season and an assist against the Zips. On both plays, he used his speed to burst right through the middle of the Akron defense, which is something we might see more of as the season continues.
"I think he'll be a fun guy to watch in games where teams attack us and open themselves out," Clark said. "That gives him space to run back into them. If it's tight and congested it's hard for those guys to dribble centrally and he's one who really likes to do that and go through the other team. The more teams attack, the more we'll see him start popping up going the other way."
Washington is going to need as many hands as it can get on deck Friday against a Portland team that's undefeated at 4-0-1 and hasn't left home yet this season. The Pilots are led by a couple of offensive wizards in juniors Benji Michel and Rey Ortiz. Both were named to the All-WCC last season as sophomores as Michel scored 10 goals in 2017 and Ortiz was second in the nation in assists per game. And as a freshman, Michel won the WCC Freshman of the Year award.
Before the season, both were named to the MAC Hermann Trophy Watch List, an award given to the best player in college soccer each year. So far this year, Michel is tied for the conference lead in goals with five, and Ortiz has two goals and two assists to his name.
"I take these games more at this stage of the season as challenges," Clark said. "Good teams want to be presented with tough problems and that's what those guys are. I think we believe we can be the aggressor in every game until proven otherwise, so we're gonna keep going for it."
Reach reporter Chris Angkico at sports@dailyuw.com. Twitter: @chrisangkico