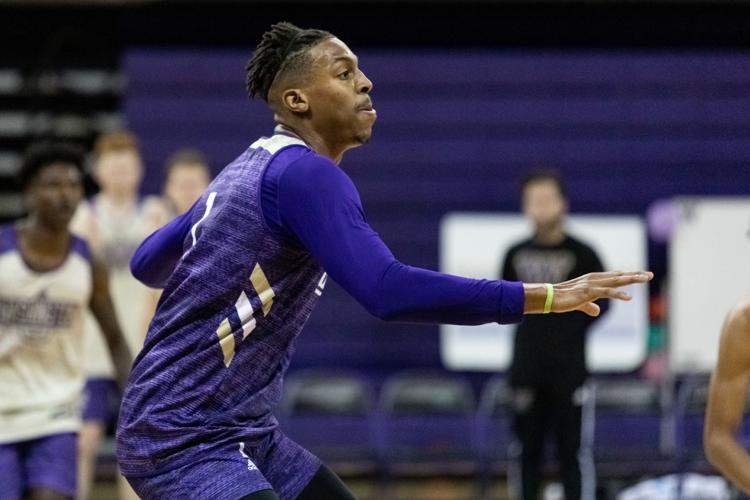 At his introductory press conference, Washington men's basketball coach Mike Hopkins was quick to point out Nate Roberts. 
Answering a question about the addition of a star-studded freshman class that includes Jaden McDaniels and Isaiah Stewart (both consensus five-star recruits), Hopkins reminded everyone about the group of freshmen who played sparingly a year ago.  
Chief among those players, Hopkins singled out the redshirt freshman from Washington D.C. 
"He was just a guy who brings incredible energy, if not one of the top two or three rebounders on the team, if not the best," Hopkins said of Roberts. "Offensive rebounding all over the place, and he's gotten bigger. He's 6-foot-10, and he looks like Dwight Howard when he gets out of the weight room. Very excited about him."
Hopkins wasn't the only one. When asked who they were most impressed with over the offseason, several Huskies said that Roberts had flashed a hardworking attitude that arose after a year of sitting out. 
"I've definitely matured in the game aspect and off the court," Roberts said. "Learning from the coaches, learning from the players, going up against the best Pac-12 team on a day-to-day basis, you learn a lot from those guys and the experience that they brought."
But that experience came with a caveat and a tough lesson. 
"I wasn't going to say it was easy," he said. "It was not easy, trust me."
Playing sparingly in Washington's exhibition contests, Roberts and the coaches opted to redshirt him before the season began, and he sat for the entirety of his first season at the UW. While the Huskies navigated their way through the nonconference season, Roberts sat on the bench, a year removed from being a top-100 prep recruit in the country. 
He fell into a self-described "dark place." He didn't realize why he wasn't able to help the Huskies on the court in 2018-19. Then it hit him. 
"I caught an epiphany," Roberts said. "I could see why everyone was saying what they were saying, and it was going to work out for my good. It was kind of just an epiphany that hit me.
"I don't think I was ready to produce how I really wanted to produce. Learning from that and taking that perspective, like, 'OK there is a reason I was held back so I could take 10 steps forward.' That transition stage really helped me out to see why I redshirted."
Instead of getting down on himself, Roberts got to work. Since arriving on campus in 2018, the redshirt freshman says he's added 25 pounds of weight, mostly muscle, to his frame. 
Given ample playing time for the first time in his collegiate career, Roberts was one of the pleasant surprises for the Huskies in their summer trip to Italy. He averaged over 10 rebounds per game and shot 75% from the field, securing offensive rebounds with ease against four Italian squads.
Despite a long layoff between real game action, Roberts wasn't surprised at his production. 
"I knew what I did to get to that point," Roberts said. "I know the time and effort that I put into my entire redshirt season. I knew the results would come, I just didn't know when they would come."
Roberts' patience will likely pay off as Hopkins and the Huskies break in new lineups to make up for the losses of David Crisp, Matisse Thybulle, Jaylen Nowell, and other key contributors from a year ago. 
With a scary amount of size returning — the Huskies have eight players that are at least 6-foot-9-inch — Roberts will look to play a prominent role in the UW's rotation this fall. Both he and the Huskies are hoping that this season was well worth the wait.
"I haven't played in a game since my senior year of high school," Roberts said. "It's been a thrill that comes over my body every time I step on the floor, it's not really nervous, but I'm really excited to see how we're going to play this year. There's going to be some good things. We're going to shock everybody this year."  
Reach Sports Editor Alec Dietz at sports@dailyuw.com. Twitter: @AlecDietz
Like what you're reading? Support high-quality student journalism by donating here.