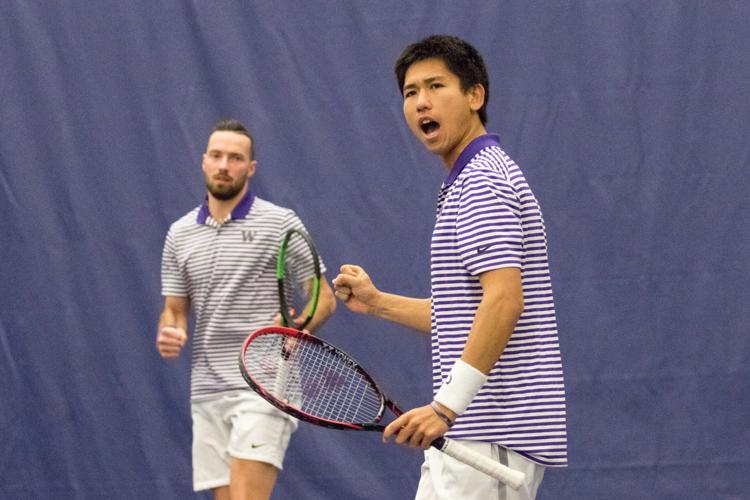 The Washington men's tennis team got back to its winning ways Friday, beating San Diego State 6-1. 
The Huskies (3-5) snapped a three-game losing streak, and played a brand of tennis that could carry them to greater heights this season. Playing more cautiously, and picking better spots to be aggressive, the UW threw out of rhythym, causing unforced errors and uncharacteristic mistakes.  
Freshman Ewen Lumsden wore his opponent Rafael Gonzalez Almazan down in a 6-4, 6-3 victory that saw plenty of miraculous shots. Early in the first set, with both players fighting for traction in the match, Lumsden made an out call that frustrated Gonzalez Almazan, who thought the ball was in. The chair umpire agreed the ball was out, yet Gonzalez Almazan was still not happy. This disagreement caused both players to elevate their games, and set the stage for an entertaining match.
"He was fighting hard, so I knew I needed to keep playing well," Lumsden said. "I tried to focus on the tennis and nothing else, just play my own game."
Lumsden kept his opponent off balance by using a wide array of shots, which forced Gonzalez Almazan to play more defensively than he would've liked. Slicing backhand drop-shots kept him moving, and spinning forehand lobs kept him from playing at the net.
The freshmen for Washington have been a major part of the winning formula, and that theme continued tonight. Freshman Ernesto Turegano picked up another win in a 6-2, 6-3 victory at No. 4 singles.
"We've all gotten really close already," Lumsden said of the freshmen. "We're training hard, and now it's starting to pay off in the matches we play."
Freshman Kasper Smith also played well at No. 6 singles, but fell to Arnaud Restifo 4-6, 4-6. Smith continues to improve and the experience he is gaining now will be valuable when Pac-12 conference play begins.
Senior Piers Foley continued his winning ways in a 6-4, 7-6 win that clinched the sixth point for the Huskies. Foley now leads the Huskies in singles wins on the year with 10, and a total record of 10-5.
The Huskies will travel to Minneapolis to face Minnesota on March 1.
Reach reporter Caden Conder at sports@uw.com Twitter: @cadenmconder
Like what you're reading? Support high-quality student journalism by donating here.