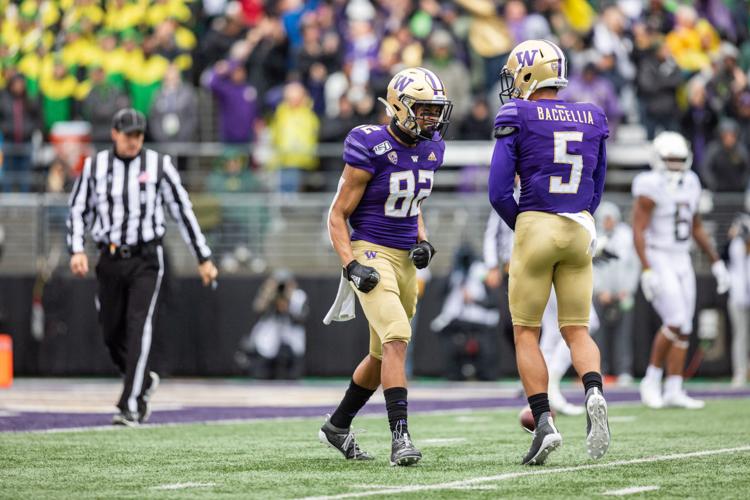 The Washington football team opened the season with three seniors starting at receiver. Chico McClatcher, Aaron Fuller, and Andre Baccellia had a combined 114 games of experience before the year even started.
However, all that experience meant next to nothing two weeks ago. The Huskies' leading receiver, Fuller, played only one offensive snap, McClatcher was forced out due to injury, and Baccellia only managed one catch. Those circumstances opened the door for scarcely-used junior Jordan Chin, sophomore Terrell Bynum, and hyped freshman Puka Nacua, who all saw increased snaps against Oregon.
"Through this process, they practice to get better," wide receivers coach Junior Adams said. "I think we see it sometimes as, 'they're getting reps, they're getting catches,' but for a while those guys do a lot of dirty work in the run game. You've seen Puka block defensive ends, you've seen him block linebackers, Terrell's doing the same thing. They come to work everyday and make plays and when they go out in the game, they do the same thing."
Washington's coaches have been appreciating the hard work that the receivers have been putting in and rewarded sophomore Bynum with 36 snaps against Oregon. Bynum showed out against the Ducks en route to a career-high six catches for 43 yards.
"It was great," Bynum said. "I wasn't getting much action before that so to come out, hear the crowd roar when you catch a pass, stuff like that, I was super excited. Ready to build from that."
After redshirting his first year at the UW, Bynum appeared in 10 games last season, mostly as a blocking receiver, and did not record a catch. Bynum's first career reception came in the opening game this season against Eastern Washington on an 11-yard pass from quarterback Jacob Eason.
Through eight games, Bynum has the third-most snaps of any Washington receiver and has filled in during the absence of others. While Bynum knows his contributions are important, the team still feels the effects of a tough rivalry loss.
"I just want to win," Bynum said. "I don't care if I get zero passes, or 100, I just hope we come out with the win. If that means we have to block more, or catch difficult passes, I'm down for whatever. A win is the biggest thing we need, and it will merge our team together and put us on track after a tough loss against Oregon."
In his four seasons at the UW, Chin is another wideout who has had to work to find a spot on the field. Redshirting his first season and playing sparingly in his second, he finally got some action at the Rose Bowl last season, recording his first career reception. 
In the second quarter, Chin raced by the Oregon defense and allowed Eason to drop a ball right into his hands for a 48-yard touchdown, the first of the junior's career.
"It felt unreal to be honest," Chin said. "I've been waiting on that moment for a long time. All the hard work I've put in, it's paying off."
In the previous week, against Arizona, Chin hauled in a 39-yard reception and helped set up a touchdown in Washington's 51-27 win over the Wildcats. A week later, Adams couldn't help but smile at the thought of Chin's touchdown reception against the Ducks.
"He was fired up," Adams said. "He had the big play against Arizona the week before. It was awesome to see Chin make that play. Chin's one of our energy guys too he's always smiling, he's always having fun, always talking, in a good way, he's fun to be around. It was cool to see him get that opportunity and really take advantage of it, see him score, we're pretty excited about him."
The Huskies will be in for another tough challenge Saturday against a No. 9 Utah defense which ranks 11th in the country in passing yards allowed.
Reach reporter Anthony Edwards at sports@dailyuw.com. Twitter: @edwardsanthonyb
Like what you're reading? Support high-quality student journalism by donating here.