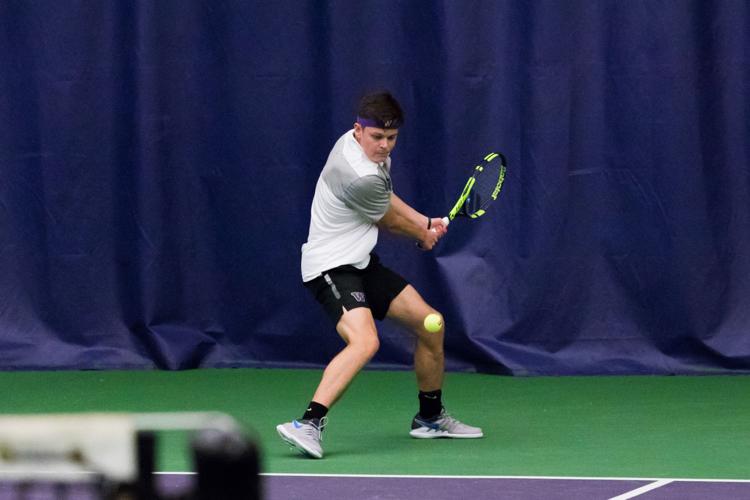 The Washington men's tennis team came up short in a 4-0 defeat to the No. 29 ranked Arizona Wildcats on Friday afternoon.
The Huskies (6-12, 1-2) have struggled away from home all year, and with today's defeat, are now 0-9 on the road this season.
A bright spot yet again for the UW was freshman Ewen Lumsden, who was leading his match 7-5, 4-3 when the match was called. Lumsden has been a consistent force in the lineup, and is 7-2 this season when playing at No. 5 singles.
Sophomore Jack Davis had also built up a lead against Igor Karpovets when the match was called at 6-4, 2-5. Davis has gained valuable experience playing at No. 2 singles, and is learning how to use his big frame and aggressive shot-making ability to his advantage on the court.
At No. 1 singles, Senior Enzo Sommer fought hard against opponent Jonas Ziverts, but was defeated in straight sets 3-6, 6-7 (5). Junior Piers Foley and freshman Adam Torocsik were unable to remain in touch with their Wildcat opponents, losing 1-6, 1-6, and 0-6, 1-6, respectively.
The doubles point was lost for the Huskies, when Arizona's No. 69 ranked pairing of Karpavets and Ziverts defeated Davis and Foley 3-6.
The Huskies will look to quickly rebound when they face another conference foe in Arizona State on Sunday.
Reach reporter Caden Conder at sports@dailyuw.com. Twitter: @cadenmconder