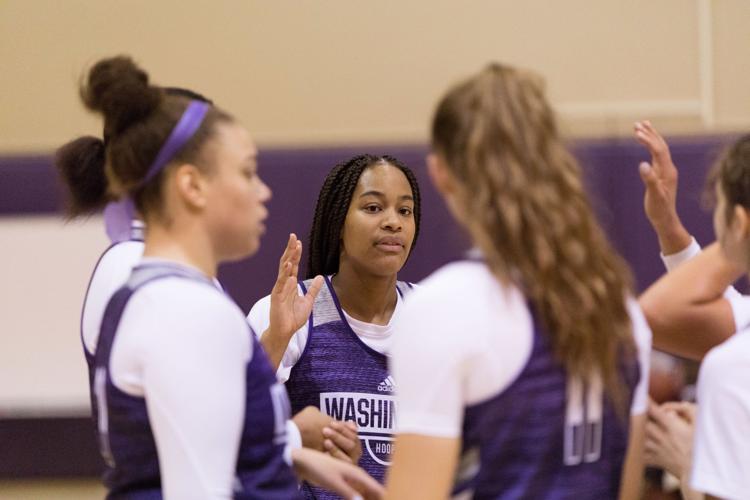 Off the heels of a up-and-down regular season and magical postseason run, the Washington women's basketball team is excited with its returning players and new faces this season.
The team closed out last year at 11-21, with only two regular season wins in conference play. The bright side is 79% of the team's minutes and 85% of the team's points are coming back for the 2019-20 campaign.
"It just helps to have an experienced voice on the floor, whereas the first two years, there was all the teaching and correcting, if you will, and the demanding, and the leadership came from the coaching staff," head coach Jody Wynn said. "Whereas this year, so much of our leadership is with the players on the floor, with the returners on the floor."
In her third year at the helm, this is the most returning players Wynn has had at Washington. The only two contributing losses from a year ago were forward Hannah Johnson and guard Jenna Moser.
"So they're able to understand the terminology just as well now, and the philosophy behind the possessions, so be able to mentor our young players within practices or on the sideline or after practice, it's just an added bonus that we haven't had our first two years," Wynn said.
Four new players enter Montlake as well. Freshman Nia Lowery and junior Rita Pleskevich are key playmakers in the backcourt who will play significant minutes. The two will enter a very productive guard rotation that includes the team's two leading scorers from a year ago, Amber Melgoza and Missy Peterson.
A pair of freshman in Jaquaya Miller and Ali Bamberger will fill out the center position behind Darcy Rees who started 23 games for the Huskies last year.
A group of freshmen from a year ago have the chance to take a leap in their second season, which could give the team a boost as well.
"The best thing about being a sophomore is that those three are no longer freshmen, so Haley [Van Dyke], and T. T. [Watkins] and Darcy have the confidence and the moxy to handle themselves on the court right now," Wynn said. "And that's not what we had out of them last year, last year they were just hoping to survive and now they're competing to win."
Washington doesn't tip off the regular season until November 8th against Cal State Bakersfield, but there's definitely an optimism for the year to come.
Reach reporter Josh Eddy at sports@dailyuw.com. Twitter: @JoshTreEddy
Like what you're reading? Support high-quality student journalism by donating here.