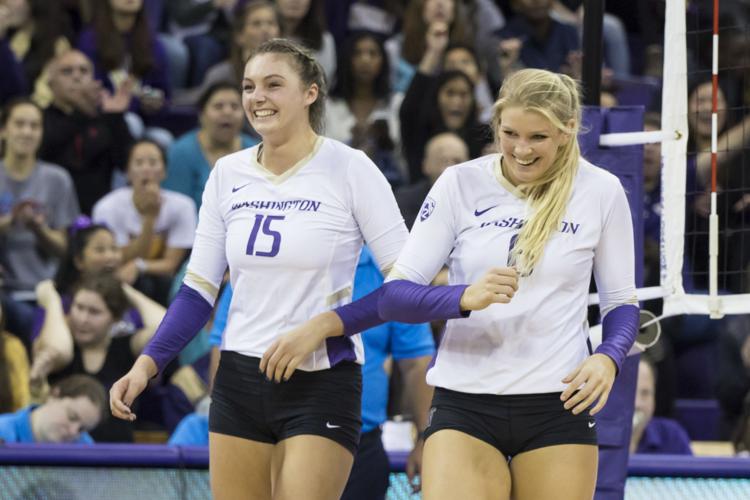 The No. 22 Washington volleyball team's first match of the NCAA tournament was all about the serve. Serving was an important aspect of Washington's game from Kara Bajema's first ace six points into the match to Maria Bogomolova's ace to solidify a 3-1 win over St. Mary's (25-22, 25-17, 24-26, 25-22), but it was also the reason the Gaels were able to hold off Washington as long as they did before the Huskies were finally able to advance to the second round.
Both teams had 12 aces across the match's four sets. Washington's serve was a major player in its dominant second-set win especially, with four aces to SMC's one.
In the UW's close third-set loss, too, serving played a major role. Washington's four service errors early on hurt its momentum, while the Gaels notched four aces of their own. One by junior Crash Parker tied up the set 23-23, allowing St. Mary's to go on to win with another ace, 26-24.
Parker's serve continued to throw off the Huskies in the fourth set as she served St. Mary's to a 5-0 start. It was a serve that Washington struggled with at the beginning of the match, keeping the first set close. While the Dawgs had seemed to figure out the Gaels' serve by the second set, their struggles cropped up again early in the fourth set.
The fourth set serving kept Washington's hitting, which had previously been stellar, down under .300. The Huskies still finished hitting .360, their best performance of the season, with the first two sets over .400. Junior Kara Bajema finished hitting .400 with 16 kills for one of her best offensive performances of the season, proving what head coach Keegan Cook has been saying recently: when the Huskies keep the errors down, they're dangerous.
Washington's other pin attackers, freshman Claire Hoffman and sophomore Samantha Drechsel finished with high hitting percentages as well, both in the .340s.
With the win, the Huskies advance to the second round of the NCAA tournament, and will play the winner of Creighton-South Dakota Saturday at 5:00 p.m.
Reach Social Media Editor Hailey Robinson at sports@dailyuw.com. Twitter: @haileyarobin
Like what you're reading? Support high-quality student journalism bydonating here.