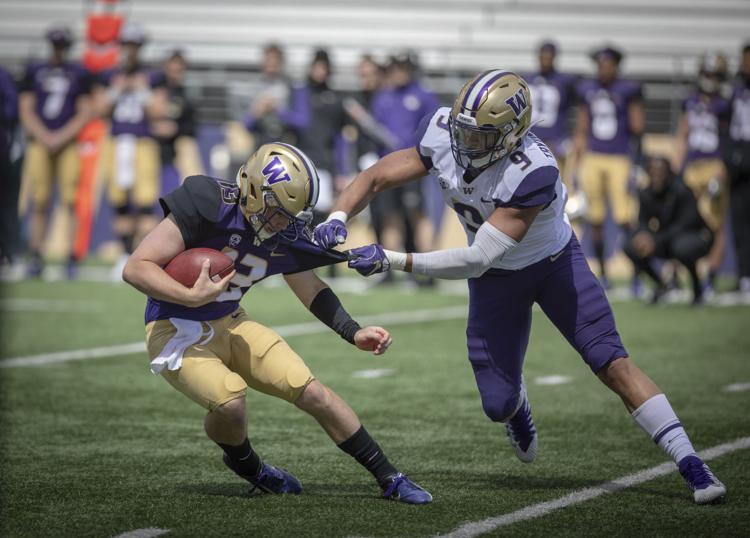 Before the Washington football team starts fall camp on Aug. 2, read our writers' best takes on the upcoming football season. Today, Alec Dietz, Josh Kirshenbaum, and Andy Yamashita tackle what they think the UW's biggest question marks are headed into 2019. Read the Daily's thoughts on the UW's biggest strengths here. 
Alec Dietz - Who replaces Myles Gaskin's production?
The Huskies have quite a few questions on the other side of the ball on defense, but since that side has shown that it can replace and reload almost every year, my question goes to the offensive side of the ball, which looked mediocre or dreadful without tailback Myles Gaskin last year. 
Gaskin missed two games with injury last year. Against Colorado the Huskies rushed for over 200 yards with Salvon Ahmed leading the way with just nine carries but for 73 yards and a touchdown. That performance was followed up with an absolute dud of a showing against California, where Ahmed ran for -2 yards on eight carries and the UW offense ran for just 2.8 yards per carry leading to a 10 point outing. 
As exciting of a prospect Jacob Eason is at quarterback, the Huskies will struggle this season if they can't find a way to replace the program's all-time leading rusher with Ahmed, Kamari Pleasant and Sean McGrew. 
Josh Kirshenbaum - Did the outside linebackers turn a corner at the end of last season? 
Everyone remember Psalm Wooching and Joe Mathis? Back in 2016, those two led an edge rushing corp that racked up 18 sacks in a season. In the two years since, Washington's outside linebackers have managed 15.5, including a paltry three last year.
Now, it's not like the defense has exactly suffered in that period, but the lack of production has forced it to change. In 2016, the Huskies barely ever sent extra pressure — at least when Mathis was healthy — rushing two down tackles and two outside linebackers and dropping seven men into coverage. Last season especially, Jimmy Lake left his base 2-4-5 defense liberally, swapping in a lineman against bigger offenses on early downs to get a better push up front and going into the six-DB "Peso" package in passing situations.
The good news for the UW's edge men — who didn't record a sack until Week 11 last season — is that everyone is back from a unit that got better as the year went on. Joe Tryon had 10 tackles in the final four games in 2018. Ryan Bowman showed the flashes he had as a redshirt freshman in 2017. Benning Potoa'e could move more to the inside this year, but if he plays outside he'll be one of the most experienced players on the field. Throw in Ariel Ngata, Myles Rice, and younger faces like redshirt freshman Zion Tupuola-Fetui, and the Huskies could be dominant on the edge again. 
Andy Yamashita - Who steps up at safety?
Though the Huskies have to reload at all levels of the defense, some of those spots have ready-made replacements like Keith Taylor at cornerback. The picture at safety however, is a little more difficult to read as Washington tries to replace defensive stalwarts JoJo McIntosh and Taylor Rapp. 
There are a number of candidates up for the job. As mentioned above, junior Brandon McKinney is the only safety on the roster with a start as he filled in for the injured Rapp in the Rose Bowl. 
The other options include former Isaiah Gilchrist, who had a good spring after not seeing much playing time in 2018, and senior Myles Bryant, who got reps at safety this spring after playing most of his career in the nickel. Sophomore Alex Cook has also switched to safety from receiver and could be in contention for playing time as well. 
Redshirt freshman Julius Irvin, who was limited throughout spring, can play both cornerback and safety and should be healthy for fall camp. The Dawgs also have early enrollee freshman Cameron Williams — who head coach Chris Petersen heaped praise on during spring practice — and highly-rated freshman Asa Turner waiting in the wings as well. 
So who will Lake go with? Irvin's coverage ability from cross-training at corner could be interesting to see, and both Petersen and Lake seem very high on Williams, who is discussed as more of a ball hawk. Pair one of them with a more traditional strong safety type like McKinney or the 6-foot-2 inch Turner, and the Huskies could have their next great safety duo on Montlake.
Reach the Daily Sports Staff at sports@dailyuw.com. Twitter: @UWDailySports
Like what you're reading? Support high-quality student journalism by donating here.