Following a nine-game losing streak, it was announced that guard T.T. Watkins would be moved into the starting lineup for the Washington women's basketball team's game against Colorado on Feb. 9. 
The team hadn't felt victory for over a month, and this was the first time someone new started during that stretch.
"I would say I was at first a little nervous, had a little [bit of] butterflies in my stomach starting," Watkins said. "Coming through the tunnel, I was really scared, kind of like 'I don't wanna mess up, don't mess up.' That was kind of what was going through my mind."
In the gauntlet of Pac-12 play, the Buffaloes only sat at 3-8 in conference play, marking an opportunity for the Huskies to get back in the winning column.
Placed in the starting five for the first time this season, the sophomore contributed seven points, a steal and a career-high eight rebounds, including four on the offensive end. The Dawgs snapped that losing streak to the tune of a 61-52 home victory.
"She had been playing very well and consistently for us, the last home stretch at least, and even on the road," head coach Jody Wynn said. "Just her energy defensively, she gave us a great presence defensively, and then most importantly for T.T. was her rebounding."
The sophomore guard has slowly started to see more minutes as the season progressed, including 30 in a narrow loss to California. The production is increasing as well. After starting with just 11 points in the first five games of conference play, she poured in 37 points in the five games prior to her first start.
"For the average fan, they look at her and say, 'what a great defensive player,' but I mean, she's valuable to us offensively as well," Wynn said. "She moves so well without the basketball, she gives us extra possessions by crashing the boards and she has the ability to knock down an open shot or pull up jump shot."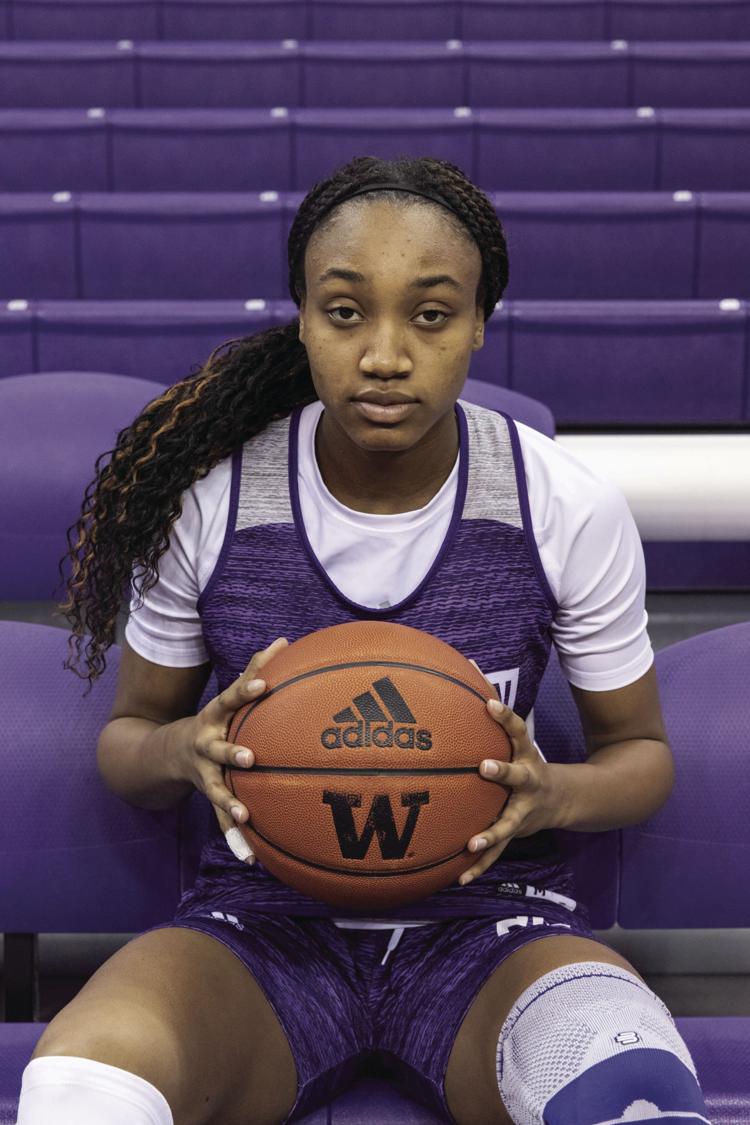 Watkins has been able to pick and choose her spots on the court well, leading the team in field goal percentage: almost 47%. She is also the team's most accurate three-point shooter, making just over 36% of her attempts from beyond the arc.
"I kind of was like a really a defensive-stopping person, but now I'm actually picking it up on the offensive end, and shooting threes now," Watkins said. "So I'm getting more confident in myself in shooting threes and hopefully bringing back my pull-up game."
On the defensive end, all her effort may not show up on the scoreboard, but her length is a problem for anyone in the backcourt, including fellow guard Amber Melgoza in practice.
"She's a very tough defender, it's fun playing against her in practice, but also she gets me better each day," Melgoza said.
Just to get to this point, Watkins had to stray off the beaten path. Both her mother and grandmother were noted track athletes. Her grandmother, Dr. Gayle Harris Watkins, competed in the Olympic Trials in 1980, 1984, and 1988. She was one of the top hurdlers and long jumpers in the United States at the time.
T.T.'s mother, Tanyita Watkins, had the opportunity to run track and play basketball in high school and  stayed with track through college at Western Kentucky University.
T.T. was faced with a similar decision when she competed in the 200-meter, 400-meter, 4x100-meter, and 4x400-meter races when she ran track at Brea Olinda (Brea, California) High School.
"Growing up, they wanted me to choose track a little bit," Watkins said. "I mean, I did track in high school, I just didn't like running like that, that wasn't my thing. I don't like running. I don't like doing that, so basketball it's like 'yeah I can run too, but I'm doing something with it, track is okay, but basketball is a little bit more and I had to see which one I was gonna go farther in."
The decision ultimately came down to her love for the game.
"Basketball was like, who I've been when I was little and then growing up now," she said.
Now that she has made her decision and committed, it has been revealed that she made a wise decision in her sophomore year with the Huskies.
Her first season was cut short, forced to miss eight of the team's final 12 games due to concussion problems.
"I didn't know what to do without basketball last year," Watkins said. "So I was just a regular student, and I was 'OK' I can't really do basketball so I'm just a regular student, going to school then coming back home, so it was really weird."
She's been cherishing her time on the court and hopes to stay there to improve her game into the second half of her career with the Dawgs.
Watkins is the youngest guard to see playing time, and with senior and leading-scorer Melgoza leaving the team after this season, there will be even more opportunities in the future.
"She's a great shooter, so I think she could have more shots instead of being a jump shooter in the corner, three pointers, just be more aggressive on the offensive end," Melgoza said. "But I think as time goes on she'll definitely realize when her role gets bigger and bigger so I think that's good for her, but I'm excited to see does in the future, and T.T.'s a great person and a great player."
Reach reporter Josh Eddy at sports@dailyuw.com. Twitter: @JoshTreEddy
Like what you're reading? Support high-quality student journalism by donating here.