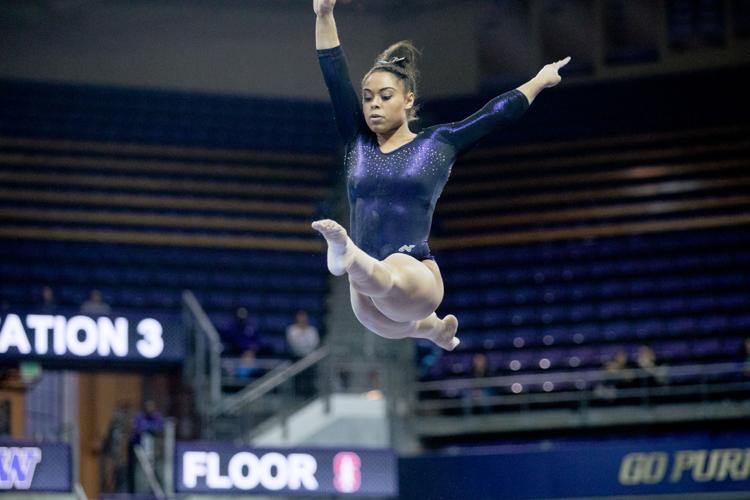 This weekend, the No. 11 Washington gymnastics team will head out on the road to face its final road challenge of the season, against Southern Utah, and the team wants to make sure that their last away meet is a strong one. 
After a win that was not quite as definitive as the team had hoped, the Huskies look to bounce back for another 197. Washington cited small mistakes that added up to lower scores than the team had been putting up in the last two weeks. Those small mistakes are what the Huskies are focusing on fixing in practice this week. 
"After this past weekend, where we weren't as sharp in competition, we're all motivated to train this week to sharpen back up," head coach Elise Ray-Statz said. 
The Huskies' most definitive win of the season was on the road against Arizona State, and their goal is to once again bring the same energy and detail to the meet in Cedar City this weekend. 
"We really want to capitalize on this last away meet, and get a good score, and just go out there and do what we've been training in the gym, and bring another great meet together — 197 quality," senior Hailey Burleson said. 
Again and again the Dawgs has emphasized bringing the same level of performance to meets as they do in the practice gym, and while it's something that has been achieved this season, both as a team and in strong individual performances, the Huskies want to finish off the season as consistent in meets as they are in practice.  
"I want to put together that full meet," sophomore Evanni Roberson said. "I feel like I haven't had that meet where I've hit my full potential, and scoring potential, specifically. I just want to go in and have that meet."
Washington's goal is to close out this season with performances worthy of the Super Six, the final stage of the National Championship. 
"This is a good check-in point for us, to make and solidify changes that need to be made as we quickly approach the postseason," Ray-Statz said. 
The Huskies will face the Thunderbirds at 12 p.m. Saturday. The meet will be streamed live on Pluto TV. 
Reach Managing Editor Hailey Robinson at sports@dailyuw.com. Twitter: @haileyarobin