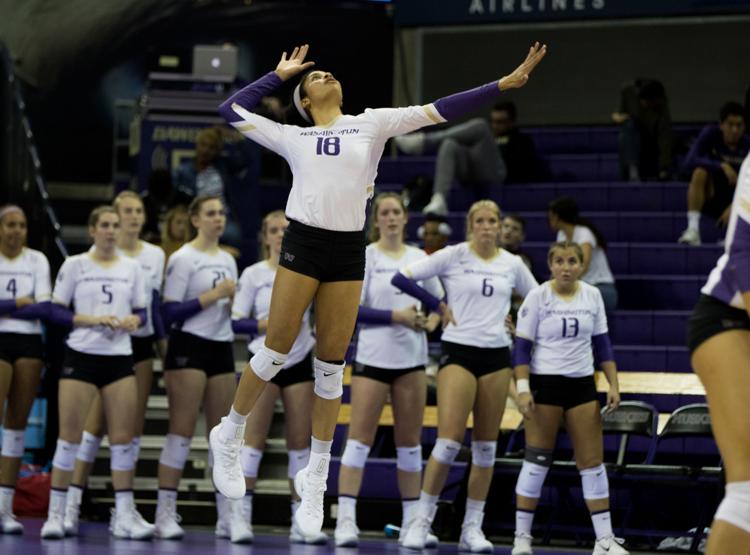 The No. 19 Washington volleyball team needs two wins this week to have a shot at hosting the first round of the NCAA tournament, and those wins won't be easy. More important, however, is how those matches will help the Huskies prepare for the tournament.
The final week of Pac-12 play means two top-25 rivalry matchups as the Huskies (18-10, 10-8 Pac-12) host No. 17 Oregon before heading to Pullman to play No. 20 Washington State.
"We'll play Oregon at home again, which should be an intense match," head coach Keegan Cook said. "They're a great team. Can we improve on our play in that environment? At Washington State, if you are on the road for the tournament, it's not going to get much gnarlier than being at Washington State. Looking forward to see my team in that environment."
Whether the Huskies end up hosting or not for the first round of the tournament, they'll be able to prepare for being home and away with a split schedule this week.  
The Oregon match won't be just the last home game of the regular season, but the last UW home game ever for senior Destiny Julye. As Washington's only senior, Julye stepped into a leadership role this season, and a much bigger role on the court as well. After spending most of last season as a serving specialist, and as a reserve outside hitter the season before that, she stepped into the rotation this year at opposite hitter.
"A model student athlete in all phases of her life," Cook said. "You could set your clock by her is the joke I make, with her consistency as a person, how much she cares about the program, how much she's given."
Julye's serve has been key for the Huskies this year. She leads the team with 34 aces and is fourth in the Pac-12 with 0.35 aces per set.
"If you measure your success on the quality of the person you produce than Destiny is one of the greatest successes that I've had as a coach for sure," Cook said.
Reach Social Media Editor Hailey Robinson at sports@dailyuw.com. Twitter: @haileyarobin