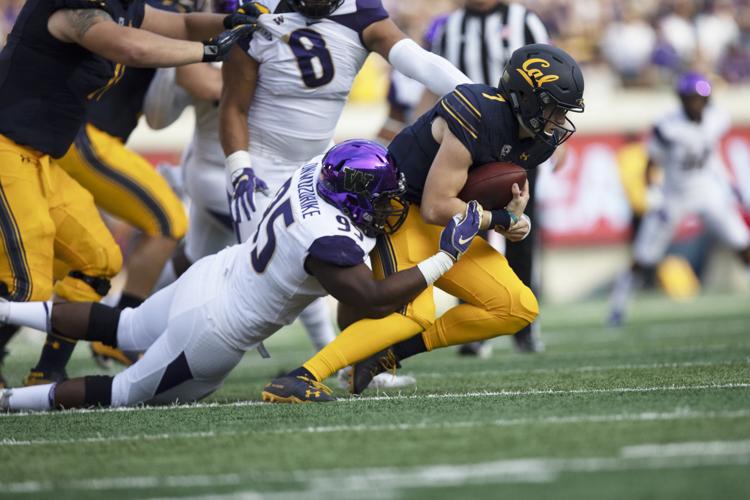 Before Saturday's game, we had the chance to ask some questions of Josh Yuen, who covers Cal football for The Daily Californian. Here's what he had to say.
Cal got off to a slow start on offense against UC Davis. What ended up turning the game around?
It is really interesting. To start 10-0 against anybody can be a cause for concern, just because in college football a lot of games can get ugly really quickly. But to do it against UC Davis is a different thing, and I think mentally it was really impressive that they were able to collect themselves. All credit is due to Davis for starting out fast and forcing the early turnovers. For lack of a better term, it was almost like PTSD from last year, at least the first quarter and change when Cal was down 10-0. What changed I think was that Chase Garbers got more comfortable throwing the ball to open up the playbook more. It only took two or three throws down the middle of the field to get him going. Once that started happening, and Chris Brown Jr., who had a career day, once he was able to get himself going, the Davis defense really drew its attention to Brown, which allowed Garbers to feel more comfortable. I think the difference between last year and this year is that there is no No. 2 behind him, at least not right now. We don't know what Devon Modster's status is eligibility-wise. But just because Garbers messes up a few times or misses a couple throws, he's not looking over his shoulder… I think to answer your question, what got them going was a mix of the run game and also just the new year. There's no backup at this moment to take over the job for Garbers.
Is Chris Brown Jr. — who rushed for 197 yards last Saturday — the next Patrick Laird, or were his numbers inflated by playing an FCS defense?
I'm a little bit more on the skeptical side. We saw Brown as Laird's primary backup last year, but he did not look like the guy we saw on Saturday, which is a testament to his work in the offseason. I was on the skeptical side in terms of if he could a three-down back. It's only one game, it was a FCS defense, but dang, he looked impressive. The stiff-arms were probably the most impressive things that stood out to us. It would take two, three, sometimes even a fourth guy to bring him down, even on runs where he'd gain 4 or 5 yards. We always knew he was a power back, but the fact that he has an elusiveness to break through tackles the way he did on Saturday was impressive. I don't expect them to lean that much on him — the almost 40 touches that he got — and he isn't quite the next Patrick Laird, but he is the next big running back in Berkeley, at least for the last few years.
Cal has a lot coming back on defense from last year. Is there anybody new we should be looking for?
It's the same old. Eight returning starters is a huge plus, considering Cal leans on its defense to win games, as you guys know from last year. But aside from Evan Weaver, whom I think UW fans will not welcome to Seattle very kindly, Kuony Deng is [Jordan] Kunaszyk's replacement, he led Cal with 12 tackles on Saturday. 6-foot, 6-inches, he's built like a basketball wing, but he's going to be more than a common replacement for Kunaszyk. Deng is one of the top JUCO transfers in the nation, and he's fit right in so far. Outside of Deng, obviously the secondary has gotten a lot of attention. I also will note that Luc Bequette, the nose guard for Cal — he played defensive end before, but he's moved to the middle now — led the team in tackles for loss Saturday, and he's looked a lot stronger and more physical. He's drawing a lot of double teams, which allowed the outside linebackers to generate more pressure, both in practice and for Cal on Saturday. 
How well do you think Cal will handle the hostile environment at Husky Stadium?
What's interesting is that if you ask the players, it doesn't make any difference, they're just focusing on playing the opponent. If you ask me, I think it's huge. Especially Seattle; I know the students aren't in school yet, but Seattle… is going to be a challenge. I'm just going to be frank with that. Until last year, when Cal had a decent road record last season — they won three out of the five games and in two they were one score away from making an upset happen — they've struggled on the road. The last time they were at UW, Ross Bowers and the offense couldn't get anything going. I'm not saying that this is the same offense, because it's not. But after what we all saw against UC Davis, it's hard to [think] they're going to do it again after leaning on the defense last season to get into Jake Browning's head and force Chris Petersen to force his hand. As of right now, it's really difficult, especially Week 2… right now, I wouldn't say the confidence is at an all-time high. Especially after Davis was within one score until the fourth quarter.
Do you have a prediction?
I don't have a game prediction yet, but throwing numbers out there, I'll go with 24-16 UW. I think it'll be low-scoring, kind of similar to last year, but seems like the way Cal played against Davis… if it had been a Power 5 team the vibe would have been a bit different. But with all due respect to Davis, it just didn't have the same vibe of "We're 1-0." It was "Eh, we're 1-0*." 
You can follow Josh Yuen on Twitter at @joshcal2020 and stay up-to-date on all things Golden Bears at @dailycalsports.
Reach Managing Editor Josh Kirshenbaum at sports@dailyuw.com. Twitter: @J_Kirshenbaum