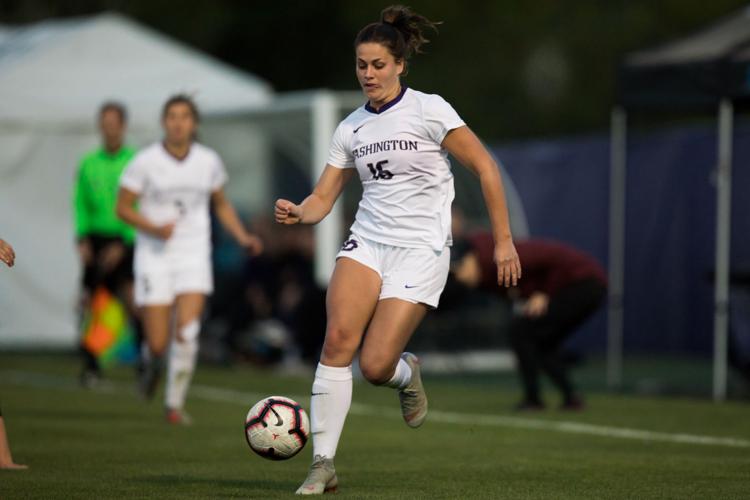 The high-octane scoring of late for the Washington women's soccer team held strong once again in a 7-2 victory over Seattle Pacific.
The Dawgs poured in four goals in the first half of the matchup, with Asia Brisco getting things started. Her shot in the eighth minute was just barely to the left of the net, but perfectly so. After bouncing the crossbar, the ball hit the back of the SPU keeper and rolled in for the first score of the night.
Just seven minutes later, Olivia Van der Jagt fed the ball into the box on a soft touch and a waiting Mireya Grey capitalized by scorching the back of the net. Shortly after, a free kick was awarded to the Huskies at the top of the box, and Ameera Hussen was able to line-up a low shot to the left corner and sneak the ball just past the outstretched arms of the keeper.
The last goal of the first half came at the feet of Mary Johnston, who scored for her first time in a UW uniform in the 32nd minute..
"It was great, I loved it, I love scoring goals," Johnston said. "[The key was] just getting used to playing with my teammates and going out with a purpose and a fire."
Johnston transferred to Washington after a redshirt year at Maryland and has played in four games for the Huskies. In those games, the Dawgs have scored a total 17 combined goals.
"We've talked a lot about driving forward and trying to be dangerous in the attack," head coach Lesle Gallimore said. "We're a young team, just trying to get more people more confidence in front of the goal."
The Huskies added second-half goals from Summer Yates, Ruby Hellstrom, and Isabella Castro.
The Huskies let in two goals tonight; it's the third time in the spring season that the defense has allowed multiple goals. Siena Ruelas and Dani Hansen split halves in the goal, with each allowing a score.
With just one more game in the spring season, Gallimore still has a lot to figure out in terms of the depth chart going into the summer.
"For them I think it's knowing their role on both sides of the ball and just improving individually on those things on the teams they go and play on, making sure that their game fitness stays sharp," Gallimore said.
The final spring game will take place at Western Washington next Thursday at 7:30 p.m.
Reach reporter Josh Eddy at sports@dailyuw.com. Twitter: @JoshTreEddy
Like what you're reading? Support high-quality student journalism by donating here.