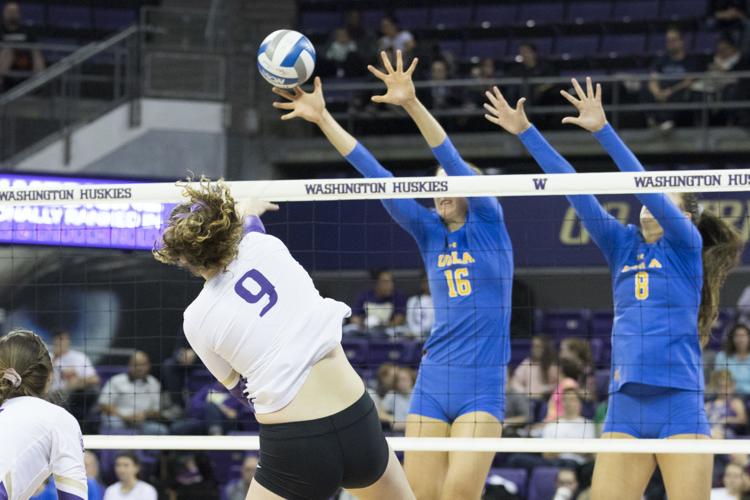 The No. 25 Washington volleyball team's offense got back on track in a 3-1 win over USC. All four sets were close, the match bracketed by sets that went long (27-25, 23-25, 25-21, 27-25).
Sophomore Samantha Drechsel lead the team with 19 kills with a career best offensive performance, hitting .545 with only one error. She also contributed a lot to the Washington block, her five blocks coming second to only junior middle blocker Avie Niece.
As a team, Washington outblocked USC 10-6, with five different Huskies adding more than one block. The Dawgs held the Trojans to hit under .300 for the first three sets, and were able to get past a USC block that shut down the Huskies last time they met.
In terms of offense, the Huskies were looking for more from their middles and Niece and sophomore Lauren Sanders delivered. Sanders had a career-high 16 kills and hit .583, with five kills apiece in the first and third sets.
The third set was the only set that wasn't close for the entire time, the Huskies grabbing a four-point lead midway through that they held onto for the rest of the set. The edge in that set came from Washington's success in hitting — as a team, it hit .459 and had what was offensively one of its best sets of the season with 20 kills for the 25-21 win.
Despite the Huskies staying on top in terms of hitting in the three sets they won, the first and last set were both pushed past 25 in part due to Washington's struggles on the serve. The Huskies had 15 errors and only four aces through four sets, and it held them back from an otherwise dominant performance.
The Huskies will face No. 21 UCLA on Saturday at 7:00 p.m.