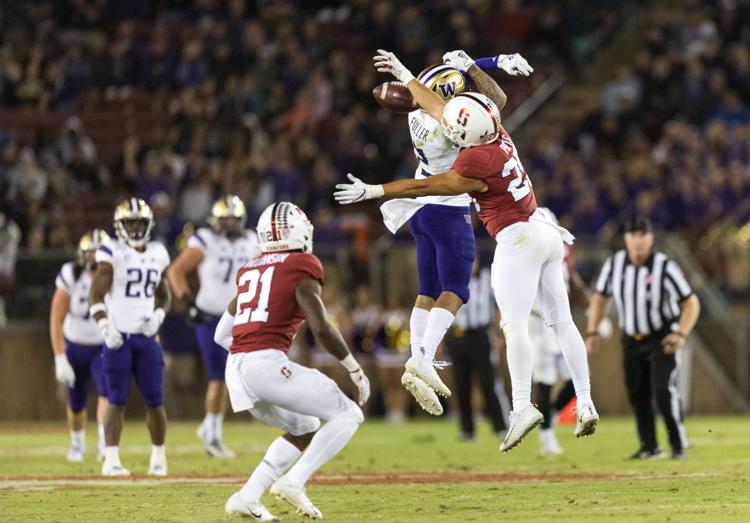 PALO ALTO, Calif. — At this point, everyone knows senior wide receiver Aaron Fuller can catch the ball. 
Over the last two seasons, he has led the No. 15 Washington football team in yards and receptions and is currently first on the team with four touchdowns this season. Even if some fans may be frustrated by his lack of yards after the catch, Fuller has mostly done what has been asked of him as the No. 1 receiver for the Huskies (4-2, 1-2 Pac-12). 
The same can't be said for the rest of his supporting cast, though they haven't had many opportunities to do so. And that was taken to the extreme in the 23-13 loss to Stanford. Fuller had nine catches on 17 targets for 171 yards with a long of 37. 
"Just progression reads, [Fuller] was the guy I thought was open," junior quarterback Jacob Eason said. "Not a game plan thing, just the way the routes were set up,"
The rest of the wideouts on the UW roster combined for two catches on eight targets. Andre Baccellia was thrown at six times and hauled in one reception. Senior Chico McClatcher wasn't able to grab his only chance, while Sophomore Terrell Bynum caught his singular target. 
Bynum's catch with 7:30 to go in the fourth quarter was the first by a UW receiver not named Aaron.
"We need to look at that too and figure out if we're throwing the ball, moving one guy around too much to do that," head coach Chris Petersen said. "But I think the quarterback just goes with his read and we'll take a look at all those things."
Junior tight end Cade Otton, who was the only other Husky receiver with multiple receptions and scored the Huskies' only touchdown, added his thoughts on the target discrepancy. 
"It's just routes and trusting the quarterbacks reads," he said. "Aaron's a great player, Jake's a great quarterback and they're going to do their thing. Maybe the rest of us have to step it up a little more — as a team we need to step it up — but obviously this wasn't good enough and so we're going to get back to work and be ready for next week." 
So where should Washington fans place the blame? Is it the game plan? Is the quarterback making the right reads? Have the other receivers not proven their worth yet to earn more chances, or in some cases, simply more playing time? 
The Huskies have stockpiled four-star receiver recruits over the last two years, but none of them have had much impact up to this point. Washington fans get excited whenever Marquis Spiker, Austin Osborne, or Puka Nacua take the field, only to watch them run block and sub out. 
When Washington wins, the target disparity is easy to defend. But after a loss like the one on Saturday, the gap and the lack of contribution from the rest of the wide receiver room is exacerbated. And whether the Huskies can improve here or not will be a major determinant of the UW's ultimate potential this season. 
Reach Bay Area Correspondent Andy Yamashita at sports@dailyuw.com. Twitter: @ANYamashita
Like what you're reading? Support high-quality student journalism by donating here.