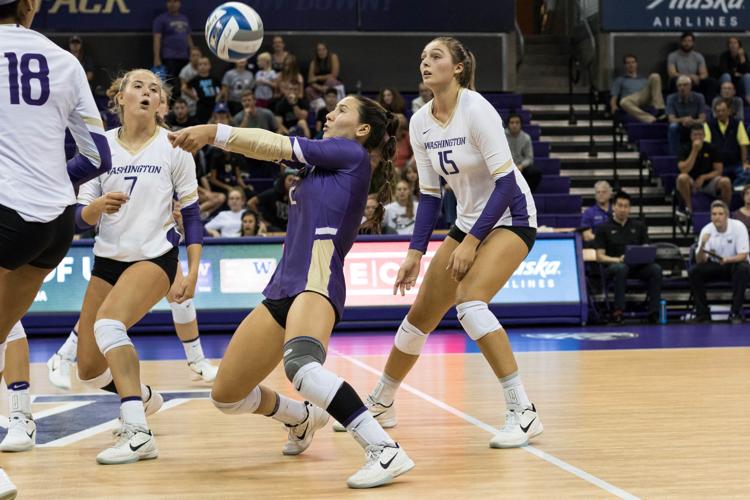 After sweeping Arizona Friday, the No. 15 Washington volleyball team's weekend was bracketed by another sweep, though this time not in its favor. The Washington offense couldn't seem to find balance as it fell in a sweep (23-25, 17-25, 22-25) by Arizona State, only a week after the Sun Devils (13-5, 4-2 Pac-12) swept their first ranked conference opponent in No. 12 Oregon.
The Huskies (12-4, 4-2) beat out ASU when it came to kills, and the teams were pretty even when it came to defensive play, Washington with one more dig and Arizona State with one more block.
Junior Kara Bajema took the lead on defense for the Huskies, as usual, with 17 kills, and was also a defensive leader with 11 digs for a double double. Not only was she the only Dawg with double digit kills, but the Husky in second place on the leaderboard, Destiny Julye, was 10 kills behind with seven.
While a more balanced offense could've changed things for the Huskies, it wasn't the key to their downfall against the unranked Sun Devils. The game changer, and the reason for ASU's dominant victory, was the serve.
Serving issues have been cropping up recently for the Huskies, since the beginning of Pac-12 play. Before that, Washington had built an identity as a strong serving team. It didn't fall to pieces immediately, as the Huskies kept up in aces to balance out the rising number of service errors, but they didn't manage to continue that trend against the Sun Devils.
Washington had nine service errors and only one ace in contrast to Arizona State's only five errors and eight aces. In a match with fairly even hitting and defense, it was this differential that allowed for a win that, just looking at the box score, ASU coasted to.
Reach Social Media Editor Hailey Robinson at sports@dailyuw.com. Twitter: @haileyarobin