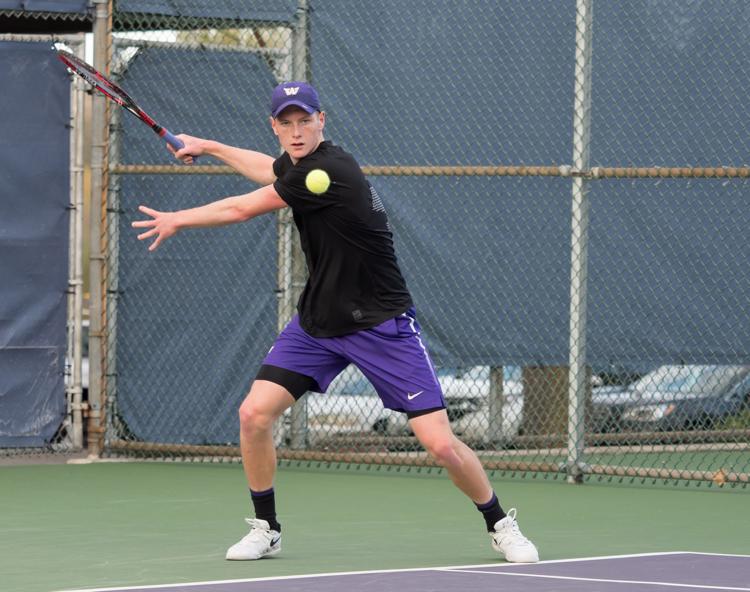 After more than a few close losses in Pac-12 play, the Washington men's tennis team picked up its first conference win with a thrilling 4-3 win over Arizona.
The match was even at 3-3 as freshman Jack Davis was midway through his deciding set, then it looked like things were falling apart for the Huskies (11-9, 1-3 Pac-12). Trailing 4-3 with serve, Davis played a tight game that resulted in deuce. At deuce, Davis and his opponent Jonas Maier played a lengthy rally before Davis's backhand was ruled long. The Huskies were flabbergasted by the call. Head coach Matt Anger was so frustrated that he threw the ball at the fence in disgust. It looked like Washington was going to drop another tough conference match.
That is until Davis bounced back, thanks in part to forcing consecutive double faults to break serve. With Davis serving to stay alive down 5-4, Maier hit a surefire point at the net directly into the net. The error was a huge boost for Davis.
"It showed me that he was a little tired like I was," Davis said. "It gave me a lot of confidence."
Davis won that game to tie it up at 5-5. With his teammates and crowd behind him, he had a boost of adrenaline to keep him going in the pressure-filled situation.
"It was so great, oh my gosh," Davis said. "The crowd carried me. My teammates cheering for me every point really kept me calm and let me finish the match."
He picked up another break and was serving to put things away. Leading 40-30, he played an eerily similar point to the one he played on deuce at 4-3. Maier signaled that the ball was long yet again, but this time after little deliberation, the ball was ruled in, and the Huskies picked up the thrilling victory.
Coming out on the right side of a match like this is a significant milestone for the Huskies this season.
"It shows that we're telling the truth when we say 'when you keep at it you're going to get those,'" Anger said. "I just want us to be doing things better and the better we do them, the more we are going to win."
The Huskies won this one without junior Piers Foley, who was in a walking boot with a bone injury in his foot. Anger was unsure if he would be able to play this weekend but does not expect him to miss significant time.
The Huskies will look to keep this winning streak going on senior day against No. 37 Arizona State at noon on Sunday.
Reach reporter Kyle Gehler at sports@dailyuw.com. Twitter: @KyleGehler