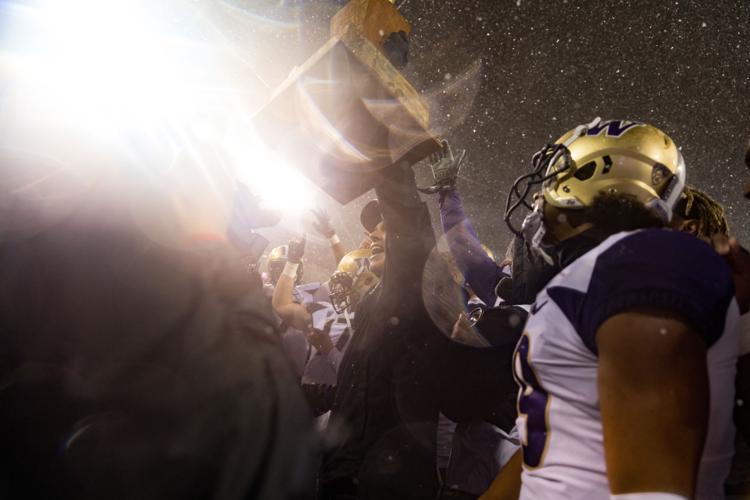 PULLMAN -- Now it's six straight seasons. A 28-15 win for the No. 18 Washington football team means that yet another UW class will graduate without ever having lost to WSU. But that doesn't even begin to tell the story.
Mike Leach and Washington State's highly-powered offenses of the past have failed to score at least 20 points in all five of their Apple Cup's against UW head coach Chris Petersen.
"We know what type of offense we're playing," defensive coordinator Jimmy Lake said. "They do the same thing year in and year out. This is five years in a row now. So it makes it really easy to game-plan when an offense does the same thing every year. Knowing what I read about the head football coach there, he does things a little bit different way. So hopefully he remains here for a long time. That would be awesome."
That quote came after the game, but he might as well have said it after every Apple Cup. Against the Huskies and their oft-vaunted secondary, the Cougs haven't done much. Today, Heisman hopeful Gardner Minshew threw for just 152 yards on 35 pass attempts.
Yes, the snow definitely had an effect on the game, but now for five straight seasons, the Huskies have held Leach's air raid offense in check.
And let me reiterate what I said above about Minshew. He is a Heisman hopeful. The Cougars are having their best season in over 15 years, and entered this Apple Cup with a 10-1 record and a slim chance at the College Football Playoff.
Minshew has thrown for over 4,000 yards, 36 touchdowns, and threw for a school record seven touchdowns in a win against Arizona last weekend. Now entering the Apple Cup with another chance at a Pac-12 North title, and at Martin Stadium no less, the Huskies led from start to finish in what could be considered a disappointing year for the program.
All that, and the Cougars still lost.
"I think they blocked better than we did today, I think they tackled better than we did, and they won," Leach said after the game.
Again, he probably could have said this after all five Apple Cup losses to Petersen and the Huskies he has sustained. In five seasons, Washington has rushed for 1207 yards against its eastern rivals —  241.4 yards per game.
The Cougs have been ranked ahead of the Huskies in three of the past five years. The total score from the past five seasons?
190-69.
After everything Washington State has been through this season —  Minshew Mania, the upset victories, College GameDay — and everything Washington has been through — the Jake Browning benching, the injuries to Myles Gaskin and Trey Adams, and the disappointing losses to Auburn, Oregon, and Cal — the Huskies were still able to come out on top in Pullman. Since October 2016, only one team has beaten WSU at Martin Stadium: the UW.
"I've heard it sucks to lose to the Cougs," Browning said. "I'm glad I didn't have to experience it."
Reach Assistant Sports Editor Alec Dietz at sports@dailyuw.com. Twitter: @AlecDietz
Like what you're reading? Support high-quality student journalism by donating here