Darrell Daniels. Will Dissly. Drew Sample. Hunter Bryant.
Next in line to ascend in the Washington tight end room is Cade Otton.
The sophomore tight end from Tumwater has provided the UW football team with consistent blocking along the offensive line as well as steady pass-catching ability. The Huskies' use of two to three tight ends has allowed Otton to be the perfect complement to fellow junior tight end Hunter Bryant.
Otton was recruited by former offensive line coach Chris Strausser and signed with Washington in August of 2016. Tight ends coach Jordan Paopao also played a valuable role in recruiting Otton to join the Huskies.
"In terms of recruiting, I think it's always nice just to be able to tell recruits simply 'Watch the tape,'" Paopao said. "From our tight end usage, to the way that we utilize those guys in a variety of different aspects, it lends well to be able to see what they can do at the next level."
Before the start of the 2019 season, Otton was named to the preseason watch list for the John Mackey Award, an award presented to the nation's best tight end.
Otton didn't see any game action during his true freshman season back in 2017 but earned recognition from the strength and conditioning staff. As he continued to get stronger and feel more comfortable with the speed and physicality of college football, his role among the tight ends continued to grow.
"I feel like I've grown a lot," Otton said. "It's definitely been a big learning curve going from high school to college. There's just so many little details. Like being successful over the course of a play and a game that you learn and that's what it really comes down to."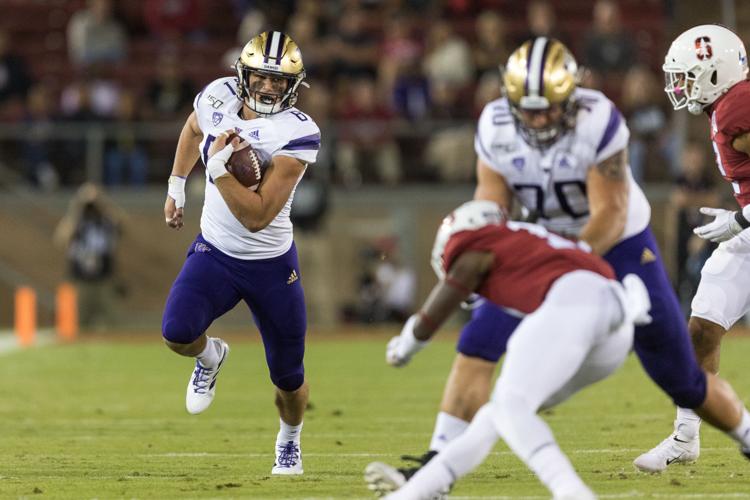 Paopao has overseen a handful of successful tight ends during his time with the program. He mentored former Washington tight end Austin Seferian-Jenkins during his two years as a graduate assistant before officially becoming the tight ends coach starting in 2013.
"Working with coach Paopao for a few years now," Otton said. "You see how he develops players in the NFL and so just being able to work with him and the other great tight ends that have been here is really beneficial. Run blocking, running routes, and off the field too. Getting used to college life and college football."
Otton has continued to be a bigger part of the Washington offense this season as he's already recorded 12 receptions in seven games, compared to 13 receptions in 14 games last season. Because of inconsistency in the wide receiver corps outside of Aaron Fuller and Andre Baccellia, Otton is fourth on the team in receptions and receiving yards.
Part of the reason for the increase in production is the progress he's made in the weight room and in conditioning. Otton entered the UW as a true freshman at 6 feet, 4 inches, and 230 pounds; this year he's up an inch and gained 16 pounds.
"Our strength staff is awesome," Otton said. "They get all of our guys ready to go, physically and conditioning and stuff."
After getting his first taste of the Oregon-UW rivalry in Eugene last year, Otton is looking forward to round two and the challenge of facing a formidable opponent in the Ducks at home this year.
"It'll be really cool, especially at home," Otton said. "It'll be a great environment so looking forward to that."
Reach reporter Evan Wong at sports@dailyuw.com. Twitter: @evan_wong29
Like what you're reading? Support high-quality student journalism by donating here.