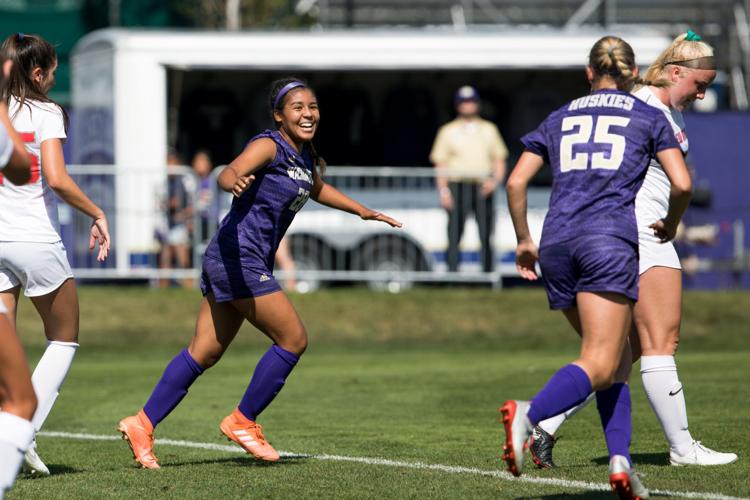 The Washington women's soccer team struck first and second, and held the lead to capture a 2-1 victory over New Mexico, its first win of the season.
In the ninth minute, the Huskies earned three straight corner kicks, and it was the third attempt that yielded a score. Summer Yates fed the ball into the Lobo box and defender Lisa Jensen kept the ball alive with a header that found Makena Carr who struck the back of the net.
"Definitely my hard work this summer leading up to the season was worth it and I'm excited for more," Carr said.
That goal was also Carr's first of the season, after starting every game so far.
The Huskies rolled out the same starting lineup as Thursday's close loss to No. 2 North Carolina, injecting sophomore Summer Yates into the lineup has helped the offensive upside.
Yates recorded the second goal of the afternoon for the Huskies today. The forward gobbled up a deep rebound outside the box and fired off a rocket toward the bottom right corner of the net, with just enough juice to sneak by New Mexico keeper Malia Vanisi. 
For the second straight game, the Huskies captured an early lead but then allowed the opposition to get back in the game.
"We kinda lost the plot a little bit, we didn't get the ball down and move it around as well as we could have as the game went on," head coach Lesle Gallimore said.  "I think fatigue started to play a bit of a factor for us."
Washington allowed a goal early in the second half, with through ball that found Leilani Baker who had a lot of space and made the Huskies pay.
"I still think the game intelligence has to improve as far as choices we make on the ball," Gallimore said. "Their goal for instance, that's not a ball we should give away for a counter."
The UW defense then buckled down for the remaining 28 minutes and only let UNM get off one more shot which was saved by Dani Hansen.
"We talk about competitive focus a lot, so it's just a game management piece, just staying disciplined defensively," defender Lisa Jensen said. "I think we did a good job holding our own."
Hansen recorded six saves in UW's win, the highest mark of her career, and bringing her season total up to 13.
Washington only has one game for the upcoming week, in which they will travel to Portland, Ore. to face off against Denver at 5 p.m. on Thursday.
Reach reporter Josh Eddy at sports@dailyuw.com. Twitter: @JoshTreEddy
Like what you're reading? Support high-quality student journalism by donating here.