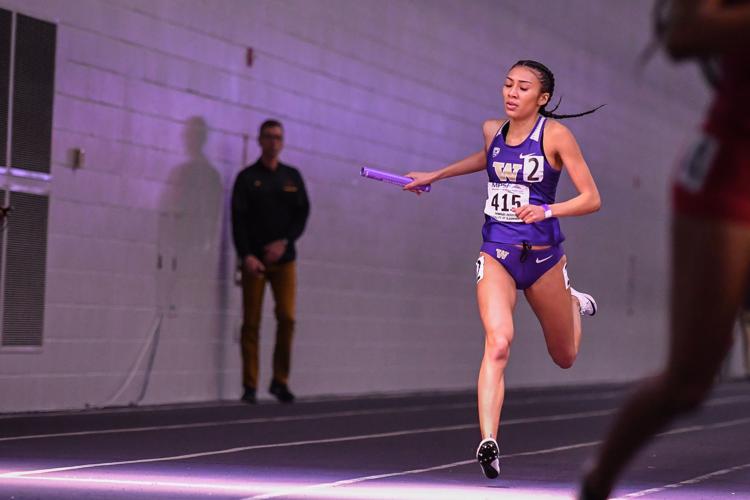 Select athletes from the Washington track and field team traveled to Arkansas for the National Relay Championships and were able to continue their trend of improvement.
Senior sprinter Imani Apostol ran in two events today, and saw new personal records in both events.
First, she took her speed to the 400-meter race and jumped out to a time of 54.69, which is a 0.27 second improvement. This mark netted her the eighth best time in school history in the event.
The senior followed that performance by decreasing her time in the 200-meter dash to 24.46, the fastest race for her without a wind-assist.
In last week's Beach Invitational, Apostol set new personal bests in both events as well, so the momentum is definitely building for the sprinter.
She wasn't the only Husky to break into the UW top-10 today, three men also cemented their place in the record books.
Fellow sprinter Evan Mafilas had a huge 0.27-second PR in the 200-meter and his time today of 21.00 is now ninth-best in UW history, and landed him a third-place finish. Kemuel Santana and Khalil Winfrey also both improved their times in the event with times of 21.09 and 21.53, respectively.
Javelin thrower Denham Patricelli couldn't stop improving throughout his attempts. In his first throw, he matched his previous best. Then, in the third attempt Patricelli reached 230 feet and 11 inches. Finally in his fourth try, the senior broke through to 236 feet and 6 inches. This is also the ninth-best mark in school history.
Pole vaulter Chase Smith reached new heights with a new outdoor record of 17 feet and 8.5 inches, good for tenth-best in UW history.
On the women's side of the pole vault, junior Annika Dayton smashed her previous best height of the season of 12 feet and 10.5 inches, by clearing 13 feet and and 7.25 inches to take first in the event.
The women in the 400-meter hurdles continued their dominance. Darhian Mills won the event for the second week in a row with another PR of 58.33 seconds, and Carly Lester was second again with her own PR of 58.84.
Other Notes:
- Cass Elliott PR'd in the 400m hurdles with a 51.02, and grabbed third place.
- Elijah Mason (184 feet, 10 inches) and Jonah Wilson (179 feet, 3 inches) took first and third in the discus.
- On Thursday Onyie Chibuogwu (193 feet, 10 inches) won the hammer throw.
Reach reporter Josh Eddy at sports@dailyuw.com. Twitter: @JoshTreEddy
Like what you're reading? Support high-quality student journalism by donating here.