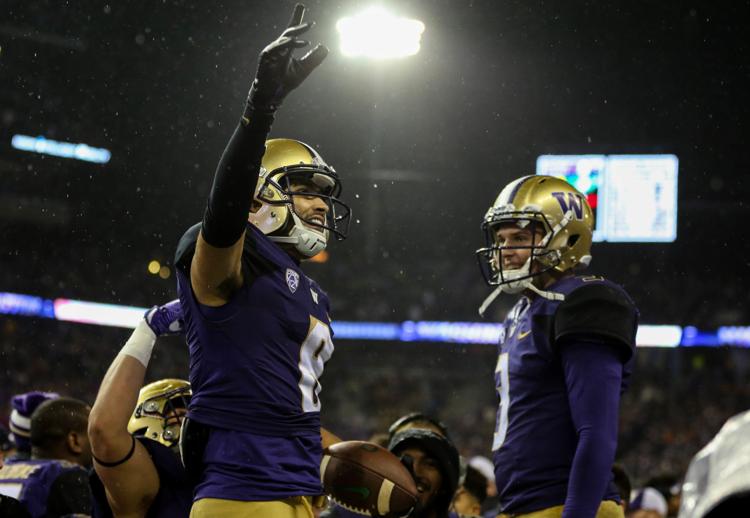 The Daily at the University of Washington is over 100 years old. So old, that when the storied newspaper began covering the Washington-Oregon rivalry in 1900, it was called The Pacific Wave. We amassed just a few of the former editors at The Daily and told them to tell us their best stories and memories covering the rivalry for The Daily.
My wife and I have been to some games at Autzen since I retired 10 years ago.  I had been warned that wearing UW gear in the Oregon tailgate area was inviting trouble but the first time after retirement we went to a game there I walked into the area with Husky hat and shirt and 15 seconds later a nice Duck fan asked, "Hey, Husky, want a beer?"  I smiled and joined them.
I remember leaving Autzen one year after a UW defeat and a Duck fan had a leash with a small toy Husky attached. The leash was extra long and the stuffed animal was just bouncing down the ramp as the guy walked. I had to laugh.  At Husky Stadium, I remember guys dressed as duck hunters walking through the lot with stuffed ducks (as if they had been shot) attached to their belts.
—  Craig Smith, Editor-in-Chief (1966-67), retired journalist
Growing up, I didn't root against Oregon, partly because I grew up in Longview near that state. And also because Oregon used Donald Duck as the basis for their mascot, and I was a huge Donald Duck fan (I loved DD cartoonist Carl Barks who was from Oregon).
Nonetheless, I rooted for the Huskies and also went to the UW. And when my parents drove me there for my first quarter in 1980, I listened to the Husky-Ducks game on the radio. The Ducks won 34-10, which was unusual because Washington usually beat them all the time then.  
I also covered the Huskies for The Daily. My friend and colleague Luke Esser and I drove down to Eugene to cover the game against Oregon in October 1985. That game drew 44,383 fans, the most of the season for Oregon, which lost 19-13 to the UW. Back then, Oregon always drew far more fans for games against the Huskies than anyone else. Partly because they wanted Oregon to beat us and also because many UW fans attended the game.
Not that Oregon was our arch-rival back then – USC was – because the Ducks were rarely a good team.
That changed in the mid-90s when the Ducks became a very good team and beat the Huskies so many times – including 12 consecutive times from 2004-2015. So now they are arch rivals. And Washington plays them next Saturday.
Hopefully, Donald Duck won't root for Oregon.
—  Jim Caple, Sports Editor (1984-85), freelance journalist, Legend
As it pertains to my college years (the 2006-09 football seasons), my prevailing memory of the Washington-Oregon rivalry is that it wasn't one. The starkest example of this came Oct. 21, 2007, a game the Ducks won 55-34 at Husky Stadium against a Huskies team that finished the season with a 4-9 record. UW actually was in that game until the fourth quarter, but the idea never really existed that the Huskies might win it. Why? Because they spent the entire game in pursuit of Oregon players who weren't carrying the ball. The Ducks' spread-out, read-option attack proved incomprehensible to UW's woebegone defense, and Oregon piled up school records of 661 yards of total offense and 465 yards rushing. It was the Ducks' fourth consecutive win over the Huskies, and that night, it felt like they might win 40 more.
—  Christian Caple, Sports Editor (2009-10), reporter at The Athletic
I covered the UO-UW games in 2010 and 2011. The Huskies actually hung around both years. It was Keith Price's surprisingly good debut in 2010, filling in for Jake Locker, but the Huskies couldn't pull off the huge upset over No. 1 Oregon at Autzen. Husky Stadium was rocking in 2011 with the UW undefeated at home, but the Ducks once again came away victorious in what had become commonplace.
—  Taylor Soper, Sports Editor (2010-11), Managing Editor at Geekwire
This was the last game played at Husky Stadium before the renovations and there was a lot of build up and hype. It was the middle of Oregon's dominant run of 12 straight wins over the Huskies and there was belief around the program and community that the combination of talent and emotions would make this the game that finally got UW back into the win column.
The press box was swaying with the noise at kickoff. Players from the 1991 championship team were in attendance. There hadn't been that much excitement for a game all season. It quickly fell apart, though, as fans got much of the same –– mistakes and opportunities missed –– that followed the Huskies through more than a decade of losing to the Ducks. There were more fiery and combative postgame interviews during the season, but not one was more somber and disappointed than after that game.
—  Josh Liebeskind, Sports Editor (2011-12), Recreational Program Manager at San Francisco Cooking School
Throughout my sports-obsessed childhood, my two great loves were University of Washington football and College GameDay. Unfortunately, for most of that childhood, the Huskies were somewhere between mediocre and unspeakably awful. They were not the sort of team you built a TV show around. 
ESPN's traveling circus had never paid the UW a visit, and I wondered if it ever would. 
And then, my senior year, it happened. Kirk, Lee and the rest of the gang descended upon a jam-packed Red Square in the pre-dawn hours of October 12, 2013. The No. 16 Huskies were hosting the No. 2 Oregon Ducks, and the whole college football world was watching. 
It was all extremely cool to see. 
In my years at UW, the Oregon game always came with a sense of morbid fascination. It was not a question of whether the Ducks would win; of course they would. It was more a matter of how painful the beatdown would be. 
Things were no different in 2013. Oregon won, 45-24. Marcus Mariota threw for 366 yards and ran for 88 more. I can still see him weaving through helpless Huskies, making the future pros who studded that year's UW defense look like statues. 
For a time, it appeared GameDay might return to the UW for this year's Oregon tilt. Then Stanford happened. Alas. But someday, Kirk & Co. will come back. And when they do, I'll be there, with a big, goofy smile on my face.
—  Kevin Dowd, Sports Editor (2012-13), Editor at PitchBook
Loss No. 10 of Washington's 12 straight to Oregon was mostly unremarkable. What I'll remember came well before kickoff. 
With Oregon ranked second in the country and the UW at No. 16 entering their 2013 matchup, ESPN's "College GameDay" visited Seattle for the first time. The UW's picturesque campus was on the list of destinations for the popular pregame show, but the Tyrone Willingham era did nothing to attract such attention. The program began to stir again under Steve Sarkisian. 
"Here we are," the show's then-host Chris Fowler told The Daily at the time, "finally."
Fowler and the ESPN crew set up in Red Square. The sun wasn't up when the when the broadcast started at 6 a.m. local time in. Suzzallo glowed in the background. Per GameDay tradition, fans waved hand-crafted signs. A popular college coach's head was photoshopped onto a picture of Miley Cyrus riding a wrecking ball. This was 2013, remember.  
To finish the broadcast, ESPN analyst Lee Corso made his pick by wearing the Oregon mascot's head. Warren Moon and Hope Solo, the two UW alumni who served as guest pickers, booed the choice. It was the right one, however, as Marcus Mariota led Oregon to a comfortable 45-24 win.
—  Thuc Nhi Nguyen, Sports Editor (2013-14), reporter at The Los Angeles Times
Two words: "The Point." 
Well, there's a lot more than two words associated with Jake Browning's now famous point. It happened during one of the many trips I made as Sports Editor at The Daily. The Huskies were really good that year, but of all the memorable moments, "The Point" solidified the team's dominance in 016. 
The final score of 70-21 certainly helped make that point as well. But the seemingly quiet Browning, who was composed on and off the field, simply lifted his finger at a Ducks defender in front of a packed crowd at Autzen Stadium. Poor, Pete. He hated it. But we all loved it. It gave new life to the long-time rivalry that for the better part of a decade always swung in Oregon's favor. We would have been just fine with the big win, but the bigger (and definitely better) moment came after the first of many touchdowns for Browning during that game. 
—  Alexis Mansanarez, Sports Editor (2016-17), reporter at Sporting News and contributing writer for The Athletic
This story isn't going to do justice to just how good a game last year's matchup between the UW and UO was. With both teams good for the first time in a while, fans were treated to a tight game all day long until Oregon finally walked off with a 30-27 win in overtime. 
On the field with just over two minute left in regulation, with a packed house at Autzen Stadium screaming at the top of its lungs, was one of the best environments I've ever been in, and it was the second-most memorable part of that trip for me.
Here's what was first:
Alec and I were about 40 miles into our drive back to Seattle when the road started to get a little louder. Sure enough, when we finally decided to pull onto the shoulder of I-5 (around 9:30 p.m.), we had a flat. One call to AAA, a spare installed, and a slow limp to Albany, Ore., later, we crashed at a Howard Johnson's, spent the night, and found what seemed to be the one autoshop in northern Oregon open on a Sunday to get us fixed up to go home.
That's a story I won't stop telling any time soon.
—  Josh Kirshenbaum, Sports Editor (2017-19), Managing Editor at The Daily
This weekend I'll be covering my third Washington-Oregon matchup as a football reporter for the Daily, but this week's contest will be my first as Sports Editor. My first experience with the rivalry as a member of the press was in 2017 at Husky Stadium. 
The hype for the game had considerably cooled when then-sophomore Justin Herbert couldn't play due to injury. However, the game got off to a cold start, on both sides. Backup QB Braxton Burmeister completed three passes and Royce Freeman burst off a few good runs to get Oregon an early field goal, and after the Huskies finally responded with a field goal of their own in the second quarter, Dante Pettis made history. 
Pettis blew the game open on a following punt return, and there have been very few moments at Husky Stadium where I've heard it louder. You could hear a breath of silence before Pettis fielded the punt, and when he broke by a defender at the 40-yard line, the crowd knew he broke the career punt return for touchdown record. The Huskies ended up running away with it, scoring 38 unanswered points en route to the win. 
Pretty scary when the press box is shaking, though. 
—  Alec Dietz, current Sports Editor
Reach Sports Editor Alec Dietz at sports@dailyuw.com. Twitter: @AlecDietz
Like what you're reading? Support high-quality student journalism by donating here.