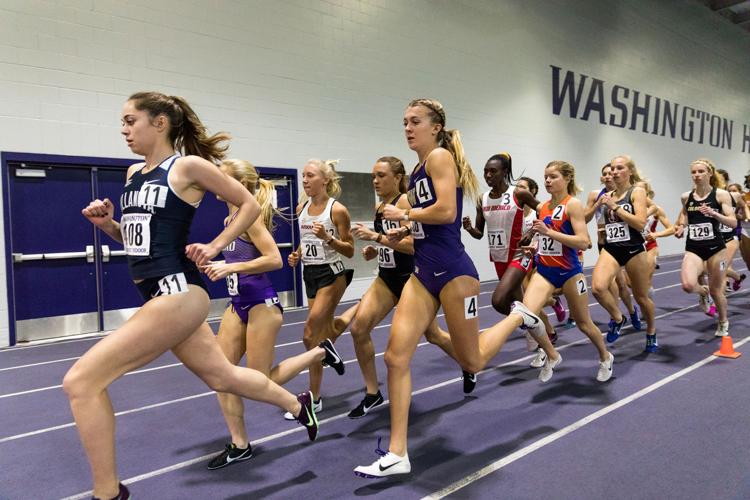 With significant turnover from coaches to players, the Washington track and field team was uncertain about the upcoming indoor track season. Now with the NCAA Championships looming, many Huskies are on the verge of qualifying or preserving their postseason berth.
However, some Washington track athletes will need to perform at their apex at this week's MPSF Championships if they want to be in Birmingham on Mar. 8.
In the 3000-meter run, junior Katie Rainsberger is currently sitting at 11th with a 9:02.84, which would qualify for nationals today. However, her time is four and one-tenth of a second faster than the qualification standard. To ensure she does not fall out of the top-16, she will run the 3k to preserve her spot in nationals.
"You shouldn't change up much leading up to a big event like this," Rainsberger said. "It's really easy to get caught up in the excitement and the overall atmosphere. You need to remember that what you've done is what has got you up to this point. To do something special, you need to trust your training and have confidence in yourself."
For redshirt senior Izzi Batt-Doyle, she has likely earned a berth to her first indoor national postseason when she broke the indoor school record for the 5000-meter run. Batt-Doyle plans to run the 3k this week. She thinks her consistent pursuit of success will help her this weekend.
"This season, the success has come pretty naturally just from enjoying it, showing up everyday and being in good races," Batt-Doyle said. "It can be challenging when you reach a certain level, and your expectations get higher. It's important to not get carried away and making small progress. You have to tell yourself that you deserve to be there at [nationals] and I just wanna give it my best shot."
Sophomore Allie Schadler is placed at 23rd nationally in the mile with a 4:37.12. To qualify, she will need to run one and five-tenths of a second faster.
On the men's side, junior Connor Morello will need to improve his personal best of 1:49.69 in the 800-meter by one and five-tenths of a second to give himself a chance to qualify. Sophomore Jonah Wilson must throw an extra two and a quarter inches in the men's shot put. Morello and Wilson plan to participate in the 800-meter and shot put, respectively.
Currently, the women and men's distance medley relay teams are both likely to qualify. The men's DMR team that ran Feb. 15 at the Last Chance College Elite Meet has moved into seventh nationally with a time of 9:28.14, and has a one second and six-tenths lead over the 12th spot, which is the final spot that is eligible for qualification. The women's DMR team of seniors Imani Apostol, Hannah Derbyand Lilli Burdon, and Rainsberger sit at 11th with a 11:00.35, and has a one and eight-tenths of a second lead over 12th place Ohio State.
The MPSF Championships will start Feb. 22 starting at noon and end Feb. 23  at 3 p.m.
Reach reporter Daniel Li at sports@dailyuw.com. Twitter: @Daniel_Li7
Like what you're reading? Support high-quality student journalism by donating here.