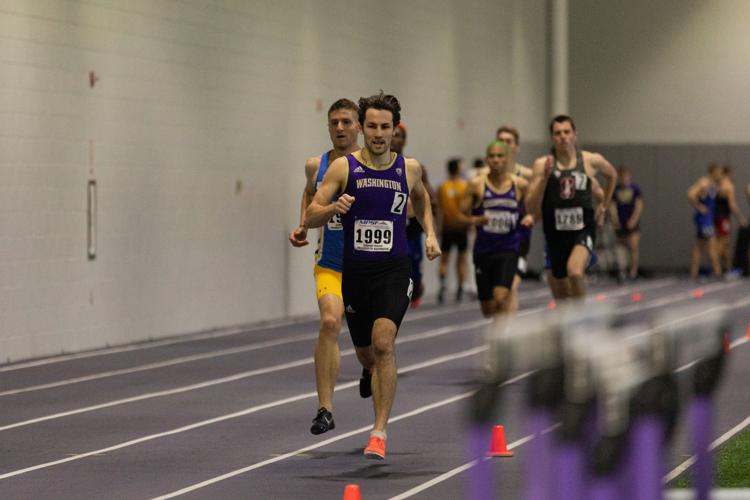 After the cancellation of the Washington track and field team's spring season, athletes had to suddenly return home after training and competing all winter. For many athletes, especially those in individual based sports like Track, training and coaching has continued at home throughout the Spring even in the grips of the COVID-19 Pandemic.
All training must be done individually and away from the team, as well as within local COVID-19 regulations. For most, especially those who compete primarily in running events, training is as easy as going to a local track.
"I do a lot of at home workouts for my core and lower body," sophomore sprinter Cass Elliot said. "And then I try to get out to a local track to do some running workouts and other types of cardio."
For other athletes, like throwers and jumpers, it is much more difficult to find suitable places to train and the athletes have to get more creative in their training.
"I've just been doing a lot of high-volume weight training with the setup I have in my garage," junior thrower Jonah Wilson said. "I'm trying to build a strong foundation going into next season."
For most field athletes, it is very difficult to practice technique away from coaches and team facilities. For these athletes, the focus during quarantine has been on strength and conditioning to build that foundation for next season that Wilson was talking about.
Even during quarantine and with remote training, regular communication between coach and athlete has still been very important for the entire team.
"I basically communicate with my athletes once or twice a week," sprints and hurdles coach Jeshua Anderson said. "Just to see how they are doing and to talk about how to deal with just trying to stay in shape."
Virtual communication between coach and athlete varies from giving voluntary workouts, to  academic check-ins, and game nights with larger groups of athletes. Some coaches have even been able to go over some of the technical aspects of an athlete's event over Zoom.
"What we can do is kind of look at technical video of other throwers and go over the nuts and bolts of the throw," throws coach Andrew Ninow said.  
For now, virtual communication with coaches and individual training is all the athletes can do to stay in shape throughout quarantine. The hope is that as the state reopens over the next month or so, athletes will be able to return to Montlake to train at team facilities and speak to coaches face-to-face and then hopefully be able to return to competition this fall. 
Reach reporter Nick Lombroia at sports@dailyuw.com. Twitter: @lombroia
Like what you're reading? Support high-quality student journalism by donating here.