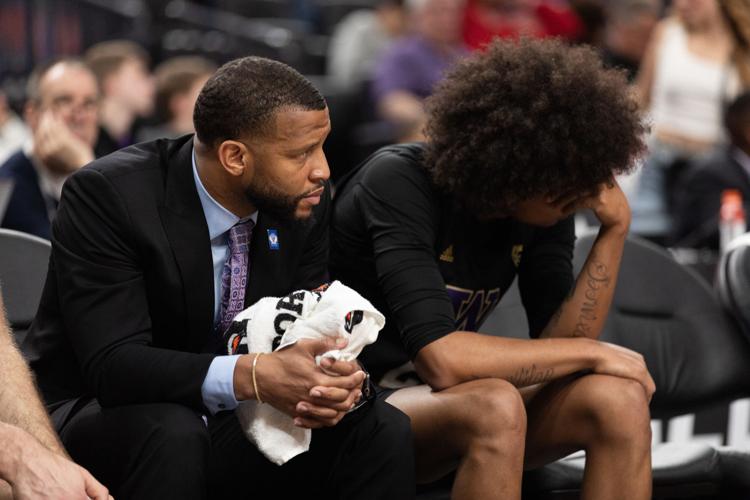 LAS VEGAS — For the eighth time in the past nine years, the Washington men's basketball team won't qualify for the Big Dance. Even with three former five-star recruits and two potential first round NBA Draft picks, the Huskies (15-17, 5-13 Pac-12) couldn't put a troubled past with superstars behind them, even with a new coach. 
Former head coach Lorenzo Romar was let go, in part, because he couldn't turn teams with NBA talent into NCAA Tournament squads, headlined by five-star phenoms Tony Wroten Jr. in 2012 and Markelle Fultz in 2016. 
This season featured three of those players, and struggled to ever find offensive consistency. In the end, despite a surge last weekend in a sweep of the desert schools, the Huskies succumbed to the same things that had plagued them all year. 
They shot 3-of-23 from three-point range and turned the ball over 19 times. Touted freshman Jaden McDaniels struggled on the offensive end, and fellow freshman Isaiah Stewart had to carry too much of the scoring load all on his own. 
"He's been Mr. Consistency every night," head coach Mike Hopkins said. "Dominant in the paint, faced up, you could see the hard work everywhere, every night. When they pack the paint the way they do on him you're going to have opportunities to build a score and tonight we just didn't make a lot of shots."
In the end, Washington's 77-70 loss to Arizona in the opening round on the Pac-12 Tournament will look all too familiar for the Huskies and its fans, in a season hurt by inconsistency and instability. 
Losing starting point guard and Kentucky transfer Quade Green to academic ineligibility after the first weekend of conference play, the Huskies were never the same since. Boasting an 11-3 nonconference record with a win over top-5 Baylor, Washington was in good position to advance to its second straight NCAA Tournament after a surprise run in Hopkins' second year. 
However, after Green was ruled ineligible, the Huskies fell apart. 
They beat Oregon State at home following a winless weekend in the Bay, but what followed quickly became the worst stretch of the season. 
For the next month, Washington would fail to win a game, a streak that almost broke double digits before a too little, too late run at the end of the season that saw it win three out of its final four. 
Now, the season ends with a plethora of what-ifs, about this past season, and the future. 
While it is assumed by many that Stewart and McDaniels will declare for the NBA Draft, neither player was willing to commit to staying or leaving immediately following Washington's trip to Las Vegas. McDaniels wasn't made available to the media at the Pac-12 Tournament, and Stewart said he had to talk with his family and coaches before making a decision. 
Still, Hopkins contends that if this is it for the freshmen, Stewart and this team have left a profound impact on him and the program. 
"The thing I love more about coaching was how this team handled their adversity," he said, with tears in his eyes. "They kept getting better, they kept fighting. We played our best basketball at the end of the year, and that shows the character of the players. That shows a credit to our staff and our family.
"But I've never been around a kid like this, ever. Just honored to have that 12 months I've had."
And it's true Washington was playing its best basketball of conference season at the very end, with a dominant 35-point win over Cal and back-to-back road wins against the Arizona schools to wrap up conference play. 
It just wasn't enough to get a season back on track that had already been too far derailed. 
While Stewart said he wasn't committed to making a decision as of yet, he did offer insight into what the future of the program could hold next season, with just about every contributor returning, save for Sam Timmins, and potentially McDaniels and himself. 
"Just how talented this team will be, our whole freshman class played and they've done good things this year," Stewart said. "The bigs, I'm excited to see what [Bryan Penn-Johnson] is going to do, what Nate Roberts is going to do, Riley [Sorn], man, I feel like those guys are really going to be great next year. 
"Our guards, [Marcus Tsohonis], saying he was going to redshirt to playing and just running the team. I feel like we made some strides."
Whether Stewart continues to buck the trend and stays with Washington next season, along with McDaniels, remains in doubt, but there is some reason for optimism given the other returnees. 
Green, if he elects to stay with Washington, would provide a strong boost to an offense that struggled to run effectively without him, and with Nahziah Carter, Tsohonis, and freshman guard RaeQuan Battle returning, the Huskies do have pieces to improve in 2020-2021. 
Reach Sports Editor Alec Dietz at sports@dailyuw.com. Twitter: @AlecDietz