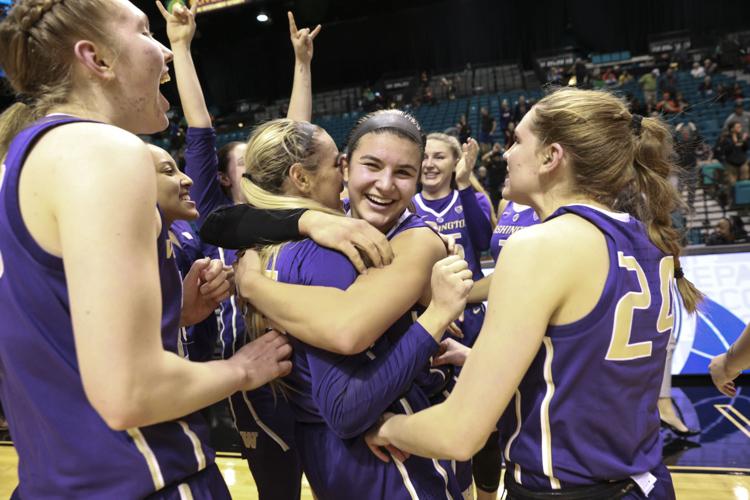 In perhaps the most stunning upset of the Pac-12 conference season thus far, the 11th-seeded Washington women's basketball team took down sixth-seed Utah 64-54 in the first round of the Pac-12 tournament in Las Vegas.
It was easily the UW's best performance of the season, as the Huskies (10-20, 2-15 Pac-12) forced 22 turnovers and turned those turnovers into 29 points on the offensive end.
Less than a month ago, in Salt Lake City, the Dawgs were dealt a 32-point loss at the hands of the Utes. In this game, Washington looked more confident in a zone that pressured the Utes (20-0, 9-9 Pac-12) all night. Senior Jenna Moser led the charge of the defensive end, along with fellow guards Amber Melgoza and Missy Peterson, as the trio combined for 8 steals.
"We turned the ball over quite a bit last time," head coach Jody Wynn said. "That led to easy transition baskets from Utah. We learned a lot, we watched a lot of film as a group and as a staff on how we could get better each and every possession. Our team was just locked in, we were so focused on the defensive gameplan. It took all of us — all of them — to execute and play with the effort that they played with."
On the offensive end, the Huskies were helped immensely by another career performance by sophomore Peterson, who scored 23 points on 8-for-13 shooting from the field. The sophomore — who is playing her third game in a row without a mask that she had worn for much of the conference season — showed the touch she had at the beginning of the season from distance, knocking down six of her eight three point attempts.
"She's just getting comfortable," Melgoza said. "When she gets in her zone, she's unstoppable, and I love seeing that out of her."
In arguably one of her most impressive performances down in the post all season long, a now fully confident freshman Darcy Rees only dropped 10 points, but nabbed 8 rebounds and was plus 15 when she was on the floor.
It is easily the biggest win in head coach Jody Wynn's career at Washington thus far, and the first time a team seeded 10th or lower has won in the first round since 2016.
"Winning this first conference game gives our team the confidence that we belong and we can compete," Wynn said. "We're trying to get better each and every day. The girls are, the coaches are, our future is bright at Washington. It's our job as coaches to get UW basketball back to being a contender each and every year."
Next up the Dawgs will be in action against No. 11 Oregon State, the third seed in the Pac-12, at 8:30 p.m. tomorrow, and the Huskies don't feel like they are done just yet.
"We aren't going to be satisfied with just one win," Wynn said. "But, this was a big win for this group and I'm very proud of our resiliency all year. I'm proud of how we've persevered through injuries and through rough losses. It shows the character that our women have, and how we can do great things when we do it together."
Reach Assistant Sports Editor Alec Dietz at sports@dailyuw.com. Twitter: @AlecDietz
Like what you're reading? Support high-quality student journalism by donating here.