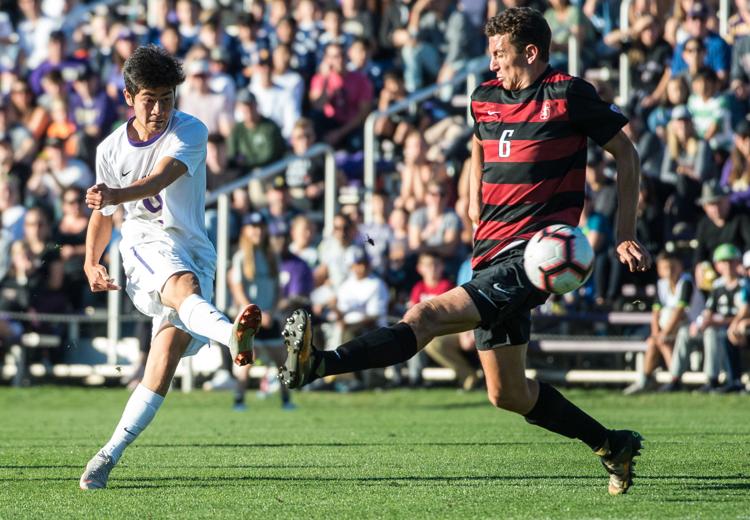 In a schedule front-loaded with road games, the Washington men's soccer team is happy to get its last two games away from Montlake over with this weekend. After splitting the homestand this weekend, the Huskies will be traveling down the coast to face the two teams they just played: Cal and Stanford.
Washington finds itself with a 2-3-0 record in conference play, with the three teams it has lost to (Stanford, UCLA, Oregon State) in front of them in the Pac-12 standings. Fortunately, the Dawgs will get another crack at all of them, two of them at home.
Still, the team is looking to try to take care of business in the rematch series. Last season, the Huskies faced almost the same type of challenge during this same time of year, getting a tie against Stanford and losing to Cal on the road, then coming back home to lose to the Cardinal and shut out the Bears in a win.
Freshman midfielder Dylan Teves has continued to perform at a high level, adding another goal to his total against Stanford a week after making his first start and scoring his first goal. He also tallied a career-high 95 minutes against the Cardinal, a signal that Teves isn't just one of the "young guys" anymore, and that he might be here to stay in the starting 11.
In last year's game at Cal, Washington fell 2-1 with Bears' midfielder Shinya Kadono, then a junior, scoring the first goal of the game. Kadono, who was held scoreless in last Thursday's game, responded by scoring his 11th goal of the season in a 2-1 loss to surprise Pac-12 power OSU.
"Shinya's a goal-hungry player, direct, gets in the box," head coach Jamie Clarksaid. "He'll really challenge defenders, so there will be a lot of focus on him. Cal's a rhythm team, so if we don't let them get in their rhythm, we're usually pretty good."
The Bears will be chomping at the bit to snap their three-game losing streak Thursday and will feel much more confident in doing so, considering they are 4-2-2 at home compared to 0-4-0 on the road.
Stanford, on the other hand, has won four of its past five games and is in position to once again win the Pac-12. Clark knows his team must pull out these last two wins on the road to give themselves a chance, because after that Washington does not have to do any traveling for the rest of the regular season.
"We can't afford to drop points to Stanford now," Clark said. "It's a six-point swing one way or the other."
Thursday's game against Cal will start at a very unusual time for a school day, at 3 p.m., and Sunday's contest versus Stanford will also have a 3 p.m. start, both on Pac-12 Networks.
Reach reporter Chris Angkico at sports@dailyuw.com. Twitter: @chrisangkico