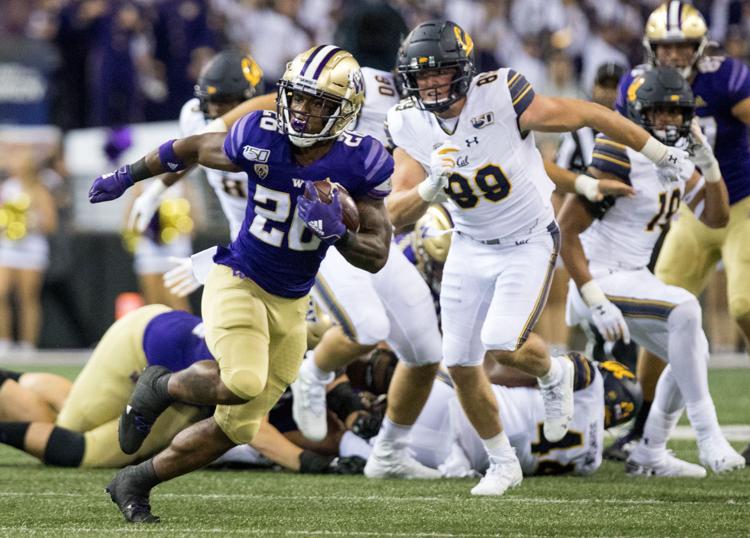 Yes, it's a day later than normal. But the No. 23 Washington football team's 20-19 loss to Cal technically didn't end until Sunday, so I'm saying the title still holds. Two days later, let's unpack the rest of the notes from one of the craziest games Husky Stadium has seen in recent memory.
Peyton Henry's big game
When I wrote my recap for last season's loss at Oregon, I started off by saying that could have been the Peyton Henry game.
This time around, it's a bit different: that should have been the Peyton Henry game.
Henry went 4-for-4 on field goals against Cal. His final one, from 49 yards out with 2:05 remaining in the fourth quarter, smashed his previous career high and was just his second career make of more than 40. Had the Washington defense held Cal on the Bears' final drive, Henry and his redemption would have been the story of the game, a la Tristan Vizcaino against Utah in 2017.
As Chris Petersen said after the game, the fact that the Huskies needed to go to their kicker four times — especially three in the red zone — isn't good. But putting his performance in a vacuum momentarily, the coaching staff has to like what it's seen from Henry this year. After the best outing of his college career, Henry is the first UW kicker to start a season 5-for-5 since Cameron Van Winkle in 2014.
"He's been kicking really well the last couple of weeks," Petersen said. "He was kicking well early in camp and then kind of went through a little bit of a rough patch, then he kind of ironed out his steps. Once he kind of figured out what he was off on, he's really been good."
That third quarter
The manual to upsetting Washington hasn't changed: slow the game down, limit possessions, and get ahead of progression on offense. The Golden Bears did all three of those to perfection in the third quarter of the game.
The Golden Bears held the ball for 8:04 in the quarter. Part of that was also helped by a strong UW drive, but most of it came from a Cal running game that did pretty much whatever it wanted.
Cal handed the ball of to its tailbacks 11 times for 110 yards in the third quarter alone. Chris Brown Jr.<CQ> and Marcel Dancy<CQ> combined for more runs of at least 20 yards (three) than ones of fewer than 4 (two), and one of those short gains still got Cal a first down.
And with the Bears running the ball at will, they drained enough clock to limit the Huskies to just one drive of their own.
Excluding the third quarter, the Golden Bears managed just 68 rushing yards and scored six points. The problem with that, of course, is the Dawgs can't.
Other notes
- Early on, the UW defensive front began to answer the question of whether it could get pressure against a better offensive line. The Huskies managed three sacks — all in the first half — against the Bears, including one by redshirt freshman defensive tackle Tuli Letuligasenoa<CQ>, who has been working more and more into the rotation on the line. Joe Tryon also had a sack, and led the Huskies with seven tackles. 
- Much like with Henry, Salvon Ahmed's performance will be lost amid the futility of Washington's red zone offense and the sheer amount of drops. But the junior tailback continued to show he can be a true workhorse, setting career highs again with 21 carries and 119 yards. Behind him, redshirt freshman Richard Newton continued to show he can be a solid second option, with nine runs of his own.
- After a monster season-opener, Jacob Eason<CQ> went 18-for-30 against Cal. Turn even two-thirds of the drops by his receivers (by our count there were six), and his completion percentage goes up to just under 75%, where he was against Eastern. And he continued to spread the ball around. Hunter Bryant and Cade Otton both finished with four receptions — that's a career high for Otton — and Aaron Fuller, Andre Baccellia, and Chico McClatcher all finished with three.
Reach Managing Editor Josh Kirshenbaum sports@dailyuw.com. Twitter: @J_Kirshenbaum
Like what you're reading? Support high-quality student journalism by donating here.