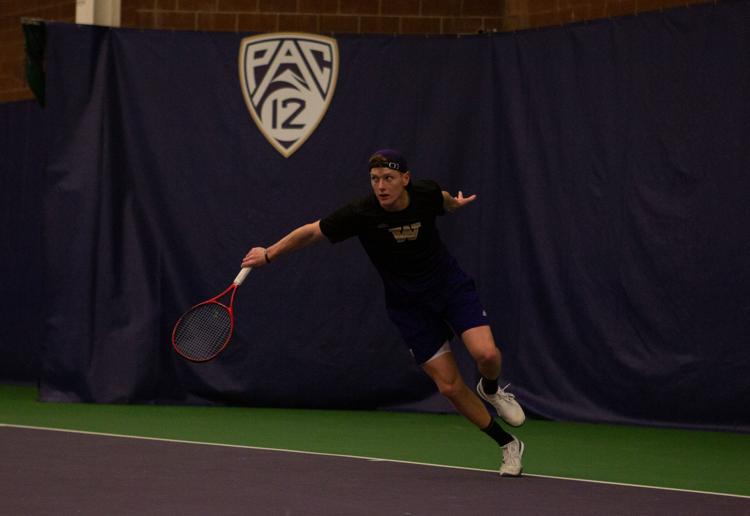 The Washington men's tennis team will be defending home court against two strong teams this weekend after a pair of victories against Seattle U last week.
On Friday, The Huskies (2-0) will be hosting their first ranked team of the season with a nonconference matchup against No. 17 Michigan. After reaching the second round of the NCAA tournament last year, the Wolverines (0-1) opened up their season with a loss 4-3 loss to North Carolina State. 
Washington will be looking at a tough challenge against a Wolverines roster that returns nine of the players who handed the Huskies a 5-2 loss in their match last season. 
The doubles courts will be the biggest point of focus in this contest. Jack Davis, who went 6-0 in the fall preseason and is currently undefeated, and with his partner, sophomore Ewen Lumsden, will most likely be facing Michigan's top duo of Andrew Fenty and Mattias Siimar, the No. 5 doubles pair in the country. 
While the UW will look to continue it's momentum from last weekend into the Michigan match, they will also welcome UC Santa Barbara, the five-time defending champions of the Big West, on Monday.The Gauchos (0-0), have yet to open up their season. 
So far, the Huskies have had success coming from all of their singles courts. The UW will look to continue their strong start to the singles matches as they take on a UCSB squad led by Joseph Guillin, who finished last season ranked No. 30 in last season's ITA singles rankings.
So far this season, freshmen Brandon Wong and Kailuhia Lam have played their first matches as Huskies and are undefeated. The freshmen will be looking to continue to play with the same fire, along with the rest of the team.
Washington will face Michigan Friday at 5 p.m. before playing UCSB Monday at the Nordstrom Tennis Center. 
Reach reporter Deepika Kamineni at sports@uwdaily.com. Twitter: @deepikamineni
Like what you're reading? Support high-quality student journalism by donating here.