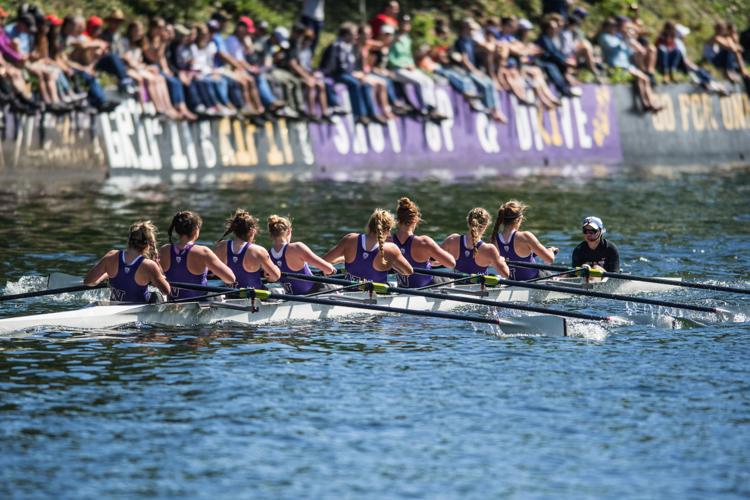 The Washington men's and women's rowing teams started the 2019 season on Lake Las Vegas with a clean sweep of victories.
The UW men's crew, ranked No. 2 in the country, won two races against Cornell. Washington also beat Oregon State and Marist, winning the varsity eight and second varsity eight races in both cases.
Washington also won the varsity eight race over the Big Red with sophomore coxswain Adam Gold. The Huskies never trailed and finished several lengths ahead at the finish with a time of 5:36.58 to Cornell's 5:49.90.
Kimmons Wilson coxed the second varsity eight time of 5:42.26. Cornell finished 12 seconds behind the Huskies.
Back out for a second time, the UW first varsity eight finished in 5:42.93, beating No. 18 Oregon State (6:01.49) and No. 25 Marish (6:10.84).
Washington jumped out to a lead in the second varsity eight race over Oregon State and rowed to a convincing victory, leading by several lengths at the 1,000-meter mark. The Huskies finished with a time of 5:54.9 while OSU (6:21.43) came in second over Marist (6:26.05).
The Washington women won all three of their races against No. 12 USC in the varsity eight, second varsity eight, and varsity four.
The races were moved to earlier in the day to avoid inclement weather. The regatta got started with the women's fours at 7:00 a.m. PT. Two UW entries finished first and second, ahead of USC. Junior Dana Brooks coxed her boat to a time of 7:38.37, with the second UW four coming in at 7:45.97. USC finished several lengths behind UW's second four (8:02.54).
The UW women's second varsity eight rowed to a dominating victory, winning with a time of 6:30.06 over USC's time of 6:48.14. The women's varsity eight race was extremely close but the UW eventually pulled away with a time of 6:25.24 to USC's 6:31.50.
The Huskies host the 118th Annual Class Day Regatta March 23 on Montlake Cut.
Reach contributing writer Evan Wong at sports@dailyuw.com Twitter: @evan_wong29