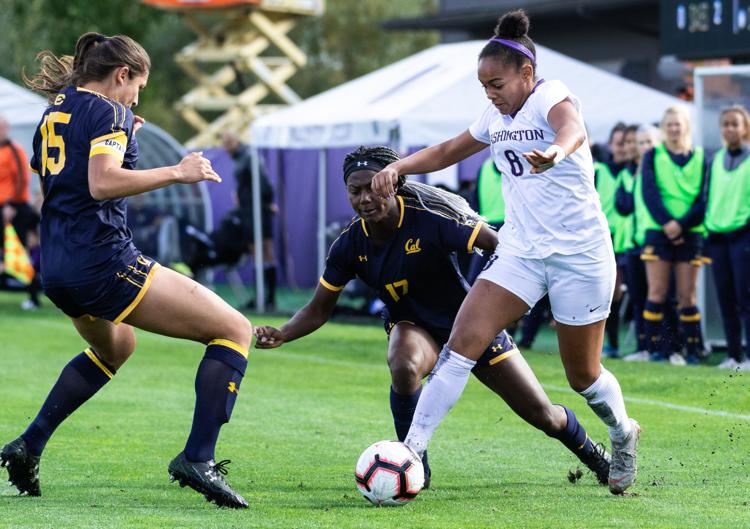 The Washington women's soccer team played its first game in 154 days, opening its spring slate of games with a learning experience in a 5-0 loss to Reign FC.
"This game's always a difficult game for us, but it's always a great game to get to play, and we feel really privileged to have a professional team in our town that wants to play us," head coach Lesle Gallimore said. "It's a great place to start because we have a lot of things that we can improve on in a short period of time."
The UW offense had some difficulties breaking through the stout Reign defense. The first shot for the Huskies didn't come until the 42nd minute when junior Sianna Siemonsma launched a clean look toward the net, but it was saved by the keeper.
On the other side, the UW defense was particularly busy tonight, especially keeper Siena Ruelas. She totalled four saves in the first half alone, but also let three goals in.
The second goal for the Reign FC was an own goal off of midfielder Olivia Van der Jagt, who led the Huskies in scoring this past fall.
The Dawgs were able to match their first-half shot total within the first minute of the second frame, with Ameera Hussen firing a low shot toward the right side of the net, which was swatted away just before reaching the net.
"Last year there's no way a game at this level, having to defend as much as we did, there's no way [Hussen] would have lasted 89, 85 minutes like she did," Gallimore said. "She's really stepped up her game, stepped up her attitude."
Sophomore keeper Dani Hansen played the entire second half, the most action she's had since coming to the UW. She let in two goals but was also able to make a pair of saves.
"Dani getting game time was good because now we know game-wise where her decision-making is at, and that's something she hasn't had in a long time," Gallimore said.
The Huskies were also without Summer Yates, their second-leading scorer last season who was with her U.S. Under-23 Women's National Team in Spain. She will also be out for Washington's next matchup against Seattle University on Thursday, April 11 at 7 p.m.
Reach reporter Josh Eddy at sports@dailyuw.com. Twitter: @JoshTreEddy
Like what you're reading? Support high-quality student journalism by donating here.