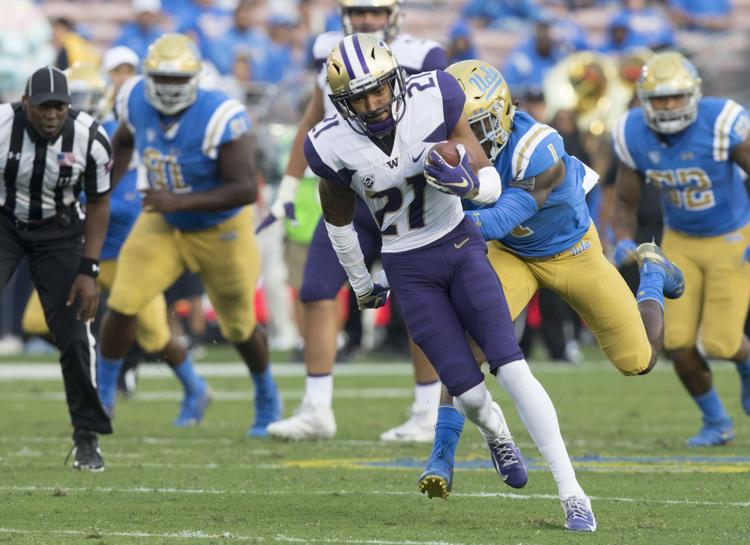 The Washington football team's wide receiver room might be the deepest position group the Huskies have, but also the one with the most question marks.
One factor that will only help is the return of Quinten Pounds, back on the field after yet another season-ending knee injury in 2018.
"It feels great to be with my teammates, my unit, just everybody," Pounds said. "Coming back for the third time, I just can't be thankful enough to just be back out there with my Dawgs."
A redshirt senior this year, Pounds appeared in seven games last season, making 10 catches and hauling in the touchdown of the year against Auburn on a diving, one-handed play. His season came to a premature end though after the UW's win over UCLA.
Pounds' true freshman season ended after three games with a torn ACL in his right knee. After playing in all 14 games of the 2016 season, he tore his other ACL in practice midway through 2018.
After missing all of spring ball, Pounds is back on the field, and going at full speed.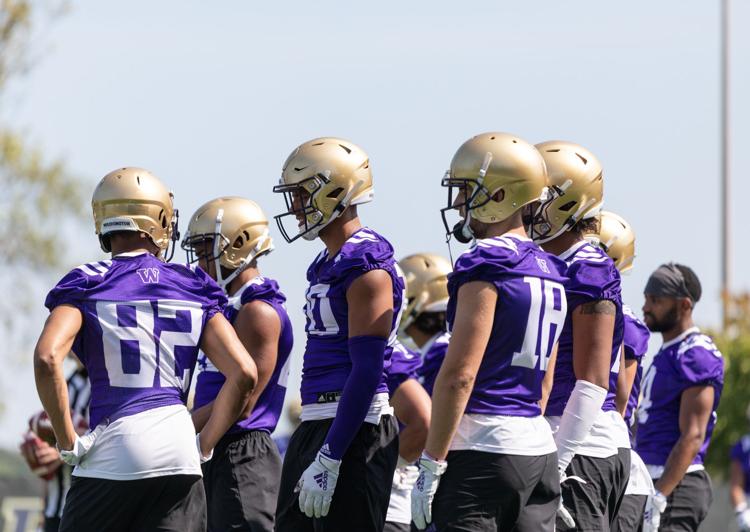 "I told him yesterday when I saw him with his helmet on and his jersey on, 'Man, it's really good to see you out on the field,'" wide receivers coach Junior Adams said.
Pounds wasn't the only veteran wideout to miss time in the spring. Aaron Fuller and Ty Jones also had to sit the April practices out, giving more reps with the first- and second-team offense to younger players like Trey Lowe, Marquis Spiker, and Austin Osborne.
Now that he's back, Pounds wants Washington's younger receivers to learn the same lessons that he did from his injuries.
"Mostly I've learned to be grateful, enjoy each day, and take it day-by-day," Pounds said. "There's a lot of people that just try to get through the day and get through practice. But each day I just try to take it and learn something from another receiver, learn something about another coverage more. Just get better each day."
Notes from Day 2 of fall camp
-Four of the five defensive position groups had the same starters on Day 2 as Day 1. The only change came with the interior linemen, who continued their personnel carousel. Saturday, it was Josiah Bronson and Sam Taimani getting the first looks.
- During the second period of 11-on-11, the defense shifted to a 3-4 look. Elijah Molden moved over to cornerback opposite Keith Taylor, with Kyler Gordon coming off the field.
- Four linemen took snaps at center: Nick Harris, Henry Roberts, Matteo Mele, and Will Pliska. For a portion of 11-on-11 drills, Roberts played with the first-team offense in Harris' place.
- Fuller made the catch of the day in 11-on-11 drills, diving to get to a ball from Jake Haener on a go route down the left sideline. 
- For those of you who want a kicking controversy, Saturday was… chaotic. The Huskies did their "Around the World" drill early on in practice, with Peyton Henry going 5-for-5 — including making from 42 with at least 10 yards to spare — and Tim Horn going 4-for-5, missing from 27 yards out. Later in Red Ball, Henry made his kick and Horn missed. 
Chris Petersen sent out his kickers for one last drill to end practice. Henry went 2-for-5, and Horn went a perfect 3-for-3. 
Reach Sports Editor Josh Kirshenbaum at sports@dailyuw.com. Twitter: @J_Kirshenbaum
Like what you're reading? Support high-quality student journalism by donating here.