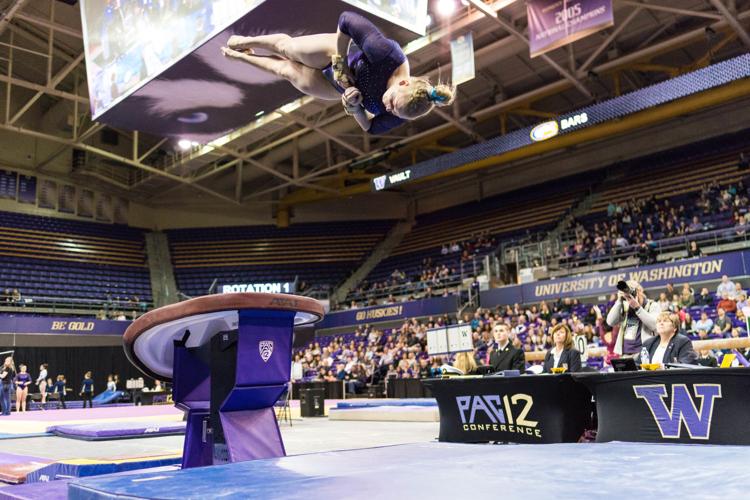 A slow start required a comeback from the No. 8 Washington gymnastics team, and while the Huskies didn't quite complete it, they came close to No. 16 Boise State for a second place finish, 197.000-196.950. No. 19 BYU took third with a 196.375.
"Our energy was really flat in the beginning of the meet, which was really unusual," head coach Elise Ray-Statz said. "A lot of good things, a lot of really good things, but overall not really what we wanted for tonight."
The Dawgs' first two events, vault and bars, lacked their usual energy. While there was a four-way tie for the vault title, senior Hailey Burleson and sophomore Madison Copiak each claiming one of those spots, the overall 49.075 performance wasn't Washington's best.
While junior Monica Riley continued her strong bars season with yet another 9.900, the Huskies team performance of a 49.150 wasn't quite where they wanted to be. They trailed Boise State by a significant margin, 98.600-98.225. Mid-meet, they got together for a pep talk before heading to their final two rotations.
"We just huddled up and said 'What are we doing?'" Ray-Statz said. "This is an opportunity that we have to grasp so we have to pick up the second half of the meet, and they really did that."
Sophomore Malory Rose kicked off beam with a 9.850, and it was clear the Huskies energy had returned as sophomore Evanni Roberson had a 9.900 performance. The 49.250 was enough to start climbing back into contention against the Broncos, who still led by .325.
On the final rotation, floor, the Huskies came out with confidence. Leadoff gymnast Michaela Nelson scored a 9.850, one of her highest floor scores of the season. Each gymnast improved on that score, with two 9.875s and two 9.900s. Burleson capped off the meet with a 9.925 to win the floor title.
"It was my last floor routine in front of the home crowd," Burleson said. "I really just wanted to give it all I had and leave it all out on the floor and do it for the girls. It was super exciting just to feel like I had a pretty great routine."
While a season high 49.475 didn't quite allow the Huskies to overtake the Broncos, they finished only .050 behind Boise State after a .375 deficit.
"We finished out the meet with a bang," junior Kristyn Hoffa said. "We came back, so I was really happy with that."
Reach Managing Editor Hailey Robinson at sports@dailyuw.com. Twitter: @haileyarobin