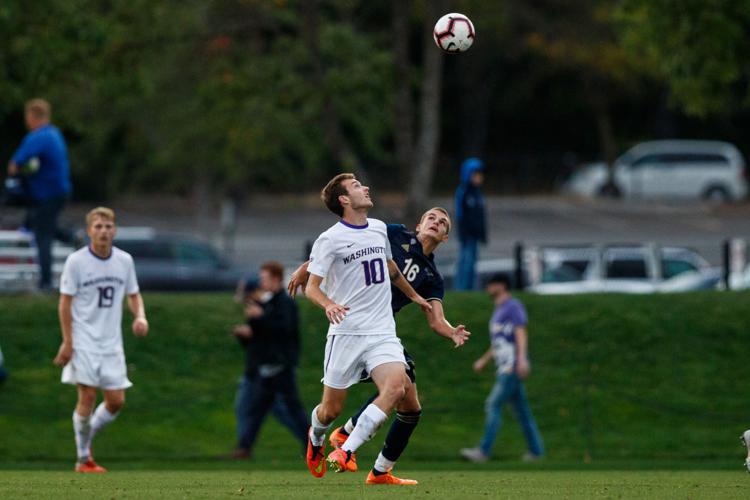 Sometimes, it takes a little magic to break out of a slump. That's exactly what senior Kyle Coffee gave the Washington men's soccer team as his two assists led the Huskies to their  first win in four matches, defeating 10-man San Diego State 2-1, and sending the Aztecs to their third conference loss of the year.
With 76 minutes on the clock in a tie game, sophomore Blake Bodily picked the ball up deep in the Huskies' half. He quickly moved it forward to Coffee, who produced a beautiful backheel to flick the ball into the path of freshman Dylan Teves, sending him through one-on-one with SDSU goalie Max Watkin. The Hawaiian, making his first collegiate start, didn't miss, slotting the ball home over the onrushing goalie at the near post for his second goal of the season and securing the win for the Huskies (6-5-0, 1-2-0 Pac-12). It was a perfect finish to end a perfect counter.
Coffee's first assist was almost as nice. In the 53rd minute, on another Washington breakaway, Coffee again played creator. Bringing the ball down the right side of the pitch, the senior cut inside at the top of the box. Some quick footwork drew the SDSU defense towards him, but the senior picked out a wide-open Bodily at the far post. Off one touch, the sophomore smashed the ball off the inside of the post to give the Huskies the lead on his first goal of the season.
It didn't last long though. Eight minutes later, in the 65th minute, SDSU senior Damian German brought down a long throw on the left side of the UW box. Dribbling down the byline, he chipped a short cross into the middle. Aztecs' captain Pablo Pelaez rushed in, slamming the ball home first time into the roof of the net to tie the game at 1-1.
Things started to get chippy after the Huskies grabbed the lead. Just four minutes after Teves scored, Pelaez picked up his second yellow. He had earned one early in the first half after a hard challenge on redshirt junior Joey Parish, and in the 80th minute, the ref brandished the red, sending the SDSU captain to the showers early and reducing the Aztecs (5-5-1, 1-3-0 Pac-12) to 10 men. Pelaez's second yellow was one of nine in the game, five of which occurred after Teves' goal.
Washington will return home to a stern test as California and No. 18 Stanford come up to visit. The Huskies take on the Golden Bears on Thursday, Oct. 11 at 7 p.m. before facing the Cardinal on Sunday at 3 p.m.
Reach reporter Andy Yamashita at sports@dailyuw.com. Twitter: @ANYamashita