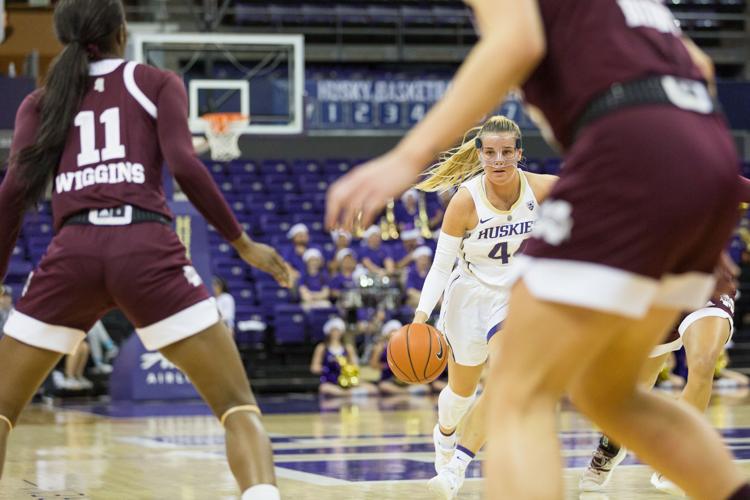 Coming off a loss to cross-state rival Washington State the Washington women's basketball team has refocused and is ready to face Utah and Colorado for the second time this season.
The Huskies (8-17, 1-12 Pac-12) got their only conference win earlier this season when they first played the Buffaloes (11-14, 1-13 Pac-12) in a home matchup. Now they will be at Colorado to play them again.
In Washington's first matchup with the Buffs, Colorado's star senior point guard Kennedy Leonard was out due to injury; she will be playing this time, so the Huskies have to prepare for a full and healthy Buffalo line-up.
"She's one of the best point guards in the conference," head coach Jody Wynn said. "She's a senior who has started for the last four years and who has an enormous amount of experience and is one of the most competitive kids."
For the Utes (18-7, 7-7 Pac-12), Washington is looking to play with sustained effort and intensity, unlike how the Dawgs played the first time they faced Utah.
"We are looking for sustained effort for 40 minutes," Wynn said. "Also for constant communication on both sides of the ball and playing just together. Moving the ball better, sharing the basketball, making the extra pass, rotating for one another defensively. Just playing 40 minutes of focus and 40 minutes of effort on both sides of the basketball."
With a focus on perfecting those little things and controlling what they can, the Dawgs also realize the season is winding down and that their time is limited, especially for seniors Jenna Moser and Hannah Johnson.
"The comradery is still pretty high," Wynn said. "We are definitely playing for Jenna and Hannah and we recognize that as a group after our Washington State game, regardless if you are making shots or not, we have to play with much more urgency, intensity, and communication for each other and especially for our two seniors."
Sophomore guard Missy Peterson will return to the court in the away matchups as she has recovered from her concussion, while freshman guard T.T. Watkins remains out.
The Huskies first face Utah on Friday at 6 p.m., then play Colorado on Sunday at noon.
Reach reporter Madison MacPhee at sports@dailyuw.com . Twitter: @madison_macphee  
Like what you're reading? Support high-quality student journalism by donating here.