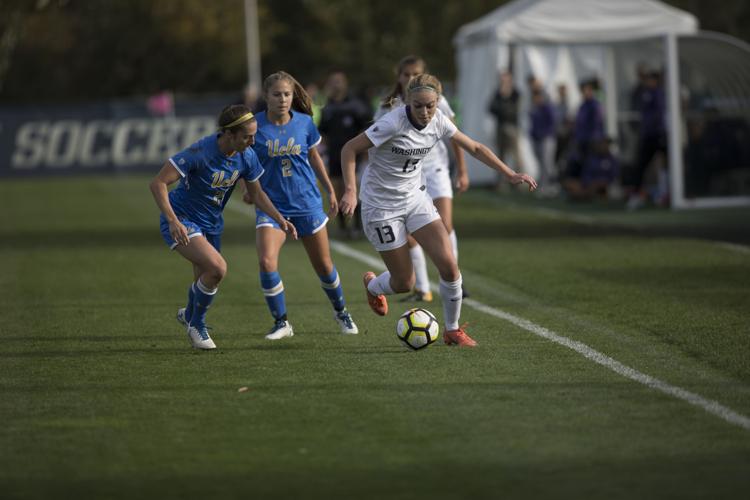 On the heels of a 9-8-3 outing in 2017, the Washington women's soccer team is prepared for another exciting season.
"It's been a work in progress, to be honest, these first eight or nine days, because as coaches we're away from our team for a long time, you add 11 new players, and try to get everyone on the same page," head coach Lesle Gallimore said.
This team will definitely have a lot of turnaround, losing eight seniors from last year and adding 11 new freshman. However, the major roster change doesn't seem to bother the players too much.
"I think so far we feel great," junior defender Taylor Sekyra said. "The team energy is awesome and the team vibe is really, really great, and I think that shows when we compete really hard at practice, but also have fun."
Strength in defense
The Huskies last year showcased a stout defense and look to pick up where they left off approaching the 2018 season.
"We do return a good group, a solid base of players that did a great job defending as a team last year," Gallimore said.
Expect the Dawgs to rely on their defense to get them through games as they've done in past seasons. Last year the UW only allowed 186 shots, nearly 40 less than it fired off, thanks to its defense.
"That's always our goal, to be difficult to beat, so you're not going to score on us easily," Gallimore said.
The Huskies held true to this philosophy in 2017 letting in 15 goals all season, including a five game shutout streak spanning two weeks. They'll look to keep that same ferocity on defense going into a new season.
"I think the whole goal is to pick up on that and get better from that," Sekyra said. "And have a no-shot, do-everything-you-can, defend-to-the-death mentality."
Plenty of new faces
The loss of seniors presents a lot of opportunity for younger players, especially freshmen, who look to make an early impact.
With newcomers hailing from close to home and as far afield as Colorado, the Husky faithful should be able to quickly become familiar with this crop of 11 newcomers.
"They came in pretty prepared physically," Gallimore said. "I would say a bulk of the group, if they weren't carrying an injury already, even some that were coming off rehab for injuries, came in pretty well prepared for the most part."
Gallimore also explained how preparation is the first box you want to check when dealing with new players and that it can build confidence.
"They've also shown us that they're willing to learn and they're coachable, they're willing to listen and pick up on things pretty quickly," Gallimore said.
Goals
With the Huskies missing out on the tournament again in 2017, they plan to make another run in the postseason. Last year the Dawgs opened strong in the non-conference matches going 7-2, but had some struggles in the Pac-12 as they finished the season 9-8-3.
"We obviously want to kill it in Pac-12, and have a winning record and hopefully making it this season," sophomore midfielder Olivia Van der Jagt said.
The Pac-12 comes with its slew of juggernauts as usual, with 2017 national champions Stanford sitting atop the preseason polls and UCLA right behind at No. 2.
If the UW wants to have more success this season, it'll need some more scoring to pair with its defense.
"My goal as midfielder is helping to create scoring opportunities as much as we can, because last year we had some troubles scoring," Van der Jagt said.
Before the Huskies get to Pac-12 play they'll have to get through their non-conference games, which start this week as they open their season with an exhibition match against South Florida on Monday, Aug. 13. The team then travels to Gainesville to face No. 7 Florida that Friday. Kickoffs for both matches are set for 4 p.m. PT.
"At this point it's really game by game, doing the best we can." Sekyra said. "Gotta take care of what we have in front of us, and that's Monday first, then we'll attack Friday."
Reach contributing writer Josh Eddy at sports@dailyuw.com Twitter: @JoshTreEddy